The 1959 Gibson Les Paul Standard is the rarest electric guitar in the world, with only around 1,700 produced during that year. Despite being iconic now, it didn't gain popularity until legendary guitarists like Jimmy Page, Eric Clapton, and Keith Richards started playing them. In 2011, a 1959 Gibson Les Paul Standard sold for a whopping $237,000, making it one of the most expensive guitars ever sold.
Electric guitars are amazing instruments that bring so much joy to people around the world. They are highly sought after by collectors and can be incredibly valuable depending on who owned them and what their history is!
Many of these rare electric guitars were not produced in large amounts, and some of them even came from prototypes – which means they were one-of-a-kind models made just for experimentation.
The rarity of a particular guitar makes it valuable because oftentimes only a few were sold during the original production run. This list aims to focus on those special and unique guitars that won't ever be seen again!
Rarest Electric Guitars in the World
9. 1949 Bigsby Birdseye Solid Maple Body
Paul Bigsby was sold at an auction in 2012 for an incredible $266,000! It was one of only 23 ever made and it was the fourth 1949 Bigsby Birdseye Maple Solid Body.
The guitar came with its original case and was verified to be real. Even more excitingly, this guitar can be seen on the cover of a brochure and catalog, making it even more beloved by guitar fans around the world.
Paul Bigsby is famous for inventing the 'whammy bar' which means you can make your guitar sound like it's wailing or talking to you when you play it!
8. 1964 Vox V251 Guitar Organ Prototype
The Vox V251 Guitar Organ is one of the rarest electric guitars ever made. It was invented by Dick Denney, a lead engineer from Vox, in the early 1960s. This unique guitar had something special – it could be played like both a guitar and an organ!
John Lennon and Paul McCartney of The Beatles were given the first V251 Guitar Organ Prototype as a gift by Denney himself but they found it too heavy and difficult to use, so they handed it down to their roadie Mal Evans.
Later it was sold at auction for an amazing $305,000! Another V251 Guitar Organ Prototype was also gifted to The Rolling Stones. As prototypes are usually very rare, owning these two guitars makes them even more valuable!
7. 1969/1970 Gibson Les Paul Prototype Recording Model
In 1969 – 1970, Gibson made what is believed to be the very first Les Paul Recording model electric guitar.
It was given the serial number "001" and stamped with "Original Gibson Prototype".
This special guitar was a prototype that remained one-of-a-kind and it even ended up being sold at auction for an astonishing $187,500!
The Recording model was created by the legendary American musician Les Paul and out of all the guitars he ever made, this one was his favorite.
Though it wasn't incredibly popular at the time, only a few thousand models were ever purchased.
This guitar stayed in production for only 8 years and Jimmy Page is believed to be the one famous artist other than Les Paul himself owning a model of it.
6. 1954 Gibson Les Paul Custom
The Gibson Les Paul "Black Beauty" from the 1950s is an exceptionally rare electric guitar with an incredible history.
Built by legendary guitar innovator and performer, Les Paul himself, this guitar was the earliest of its model and set a standard for all that came after it.
It has been playfully referred to as the "holy grail" of electric guitars because of its uniqueness.
In 2015 it made headlines when Tom Doyle – Les Paul's friend, sound man, and former guitar tech – sold it at auction for an incredible $335,500!
The buyer was none other than Indianapolis Colts owner Jim Irsay who received this incredibly special piece of music history as part of his purchase.
5. Left-Handed 1959 Gibson Les Paul Standard Sunburst
This incredible 1959 Left-handed Gibson Les Paul Standard Sunburst electric guitar is one of the rarest in existence, as it is one of only two ever made.
It was once owned by tennis legend John McEnroe and can be seen on the cover of a 2009 issue of Guitar Aficionado magazine.
After Heritage Auctions' experts deemed it authentic, the guitar sold for an amazing $194,500 at auction!
Even more impressive, all proceeds from the sale have gone to help victims affected by the Aspen Energy Oil and Gas Investment Scheme.
4. 1958 Gibson Explorer
The Gibson Explorer is so rare it's almost like a legend – only nineteen were made in 1958, and there's only one person who owns two of them!
That special person is Rick Nielson from Cheap Trick. In 2006, something incredible happened – one of the 1958 Gibson Explorers was sold at auction for an astonishing $611,000!
This amazing guitar must have been very special because its body and neck were leftover parts from 1958 but the case was all original. It was truly a once-in-a-lifetime event that has everyone talking about how valuable these guitars really are!
3. 1959 Gibson Flying V
The Gibson Flying V guitar first hit the market in 1958, but only 81 of them were sold that year, and a further 17 in 1959 – a grand total of 98.
It's hard to believe now that this iconic design was so unpopular back then, as nowadays these guitars sell for obscene amounts of money!
It is even said that one Flying V which was made in 1959 recently sold for $182,500!
Other rare models are worth well over $100,000 when they're in perfect condition.
Unfortunately, production on the initial run of Gibsons stopped soon afterward due to its radical design, shocking people off their feet at the time and completely failing to capture their attention.
Despite this low initial uptake, however, today the Gibson Flying V has seen an incredible resurgence in popularity with people all across the world!
2. 1951 Les Paul Fender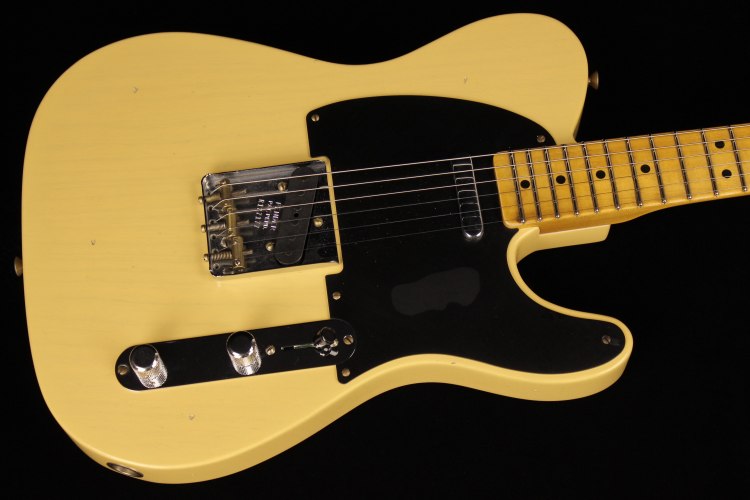 The Fender "NoCaster" is an incredibly rare and valuable electric guitar with a fascinating history.
It was first produced in 1950, under the name Broadcaster, but due to a copyright conflict with The Gretsch Company, it had to be renamed.
In 1951, all of the logos were shaved off from the remaining guitars and they were sold simply carrying the Fender logo alone.
Only about 475 NoCasters were made that year before being replaced by the legendary Telecaster.
One lucky collector even purchased an original NoCaster for $225,000 at auction back in 2012!
1. 1959 Gibson Les Paul Standard (Original)
The Gibson Les Paul Standard is one of the most iconic electric guitars of all time! Unbelievably, when it was first released in 1959, it didn't get very popular.
That's why there are only about 1,700 Les Paul Standards from that year – making them really rare and expensive.
But then legendary guitarists like Jimmy Page, Eric Clapton, and Keith Richards started playing them, and they became so desirable that in 2011 a 1959 Gibson Les Paul Standard sold for an astonishing $237,000!
Nowadays this special electric guitar is highly sought after by collectors around the world.
The Most Collectible Guitars in The World
1949 Bigsby Birdseye Solid Maple Body
1964 Vox V251 Guitar Organ Prototype
1969/1970 Gibson Les Paul Prototype Recording Model
1954 Gibson Les Paul Custom
Left-Handed 1959 Gibson Les Paul Standard Sunburst
1958 Gibson Explorer
1959 Gibson Flying V
1951 Les Paul Fender
1959 Gibson Les Paul Standard