Toyota cars are known for being reliable, efficient, and affordable. The Japanese automaker has been in business for over 80 years, and during that time it has become one of the most popular car brands in the world.
Toyota cars are available in a wide range of styles and sizes, from small hatchbacks to large SUVs. Toyota also offers a variety of hybrid and electric cars, which are becoming increasingly popular among consumers who are looking for more fuel-efficient options.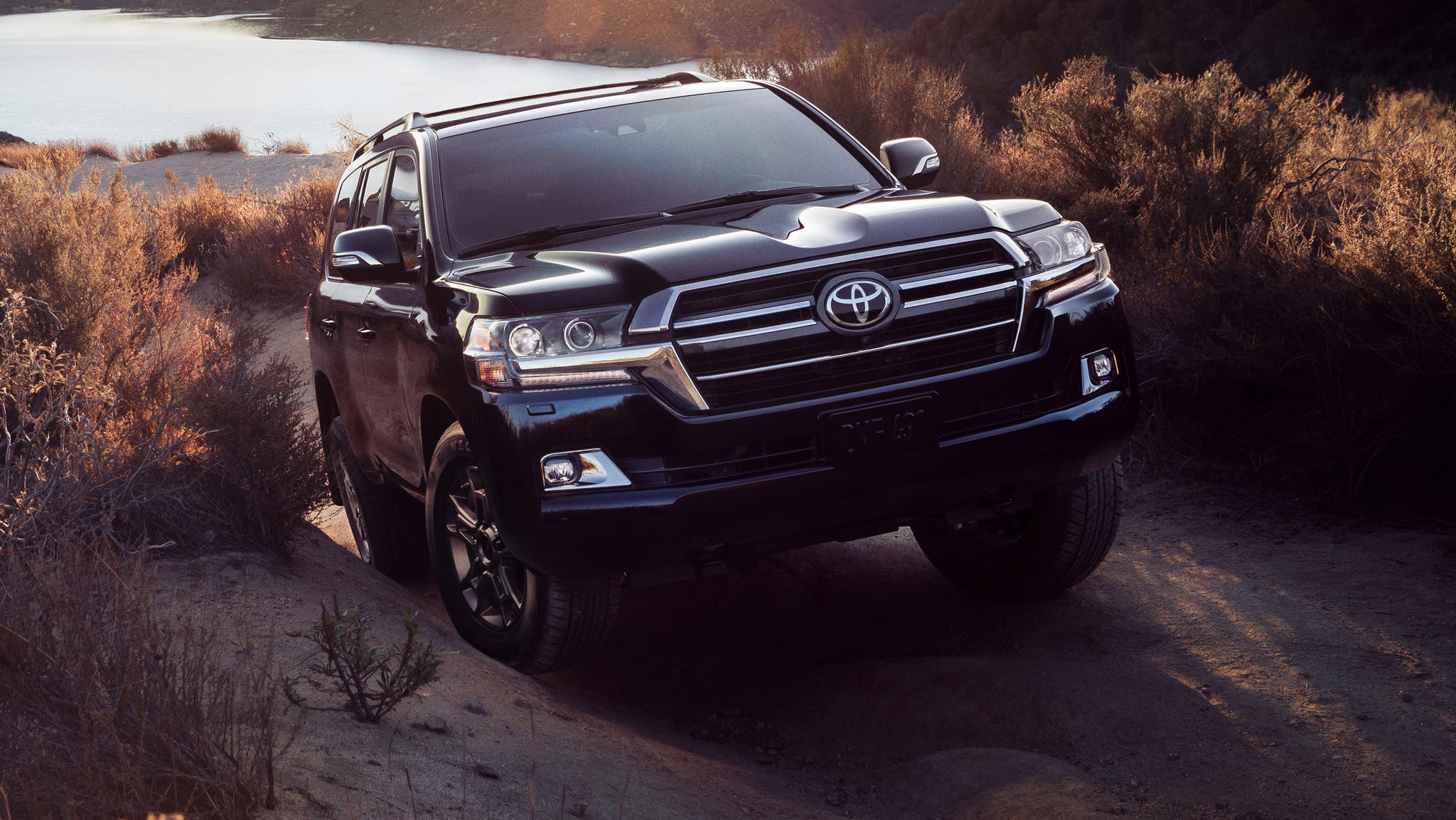 In addition to being environmentally friendly, Toyota's hybrid and electric cars offer excellent performance and handling. Whether you're looking for an economical commuter car or a family-friendly SUV, Toyota has a vehicle that will suit your needs.
---
Related: The 10 Most Expensive Porsche Cars on the Market
---
What Is the Most Expensive Toyota Car?
The Land Cruiser is the most expensive Toyota model available on the market as of 2022. It has a price tag that starts from $85,000. The SUV is designed for those who want to go off-roading.
It is equipped with a four-wheel drive and has a V8 engine. The Land Cruiser can seat up to eight people and has a towing capacity of 8,100 pounds. It comes with standard features such as leather seats, heated front seats, a sunroof, and a navigation system.
Most Expensive Toyota Cars Money Can Buy
Toyota cars are among the most popular on the market, but they also tend to be some of the most expensive. There are a few reasons for this. Toyota has a reputation for reliability and quality.
This means that consumers are willing to pay a premium for their cars, knowing that they will last for many years. Toyota also offers a wide range of features and options, which can drive up the price.
Toyota cars are often in high demand, which can lead to higher prices. Here are the ten most expensive Toyota cars available on the market?
1. Toyota Land Cruiser — Price Starts at $85,000
The Toyota Land Cruiser is a bit of an anomaly. It's a large SUV with a V-8 engine, plenty of standard features, and a starting price that's well over $85,000.
It's clearly targeting luxury buyers, but it doesn't have the same upscale feel as a Range Rover or Mercedes-Benz GLE. Nor does it offer the same level of on-road refinement.
So what's the appeal? Well, the Land Cruiser remains one of the best off-road SUVs on the market. It's capable of tackling just about any terrain, and it's packed with features that make it easier to go off-roading, such as an adjustable suspension and multiple drive modes.
---
Related: The 12 Most Expensive Audi Cars on the Market
---
2. Toyota Sequoia — Price Starts at $59,000
Toyota Sequoia was introduced in 2000 as a response to the increasing popularity of large SUVs in the United States. The Sequoia is built on the same platform as the Toyota Tundra pickup truck and shares many components with it, including the engine and transmission.
It is the largest SUV offered by Toyota and has been one of the brand's most popular models, consistently ranking among the top three best-selling SUVs in its class. The Sequoia offers plenty of space for passengers and cargo, as well as a comfortable ride and a long list of standard features.
It is also known for its reliability and off-road capability. Thanks to its combination of size, comfort, features, and off-road ability, the Toyota Sequoia is one of the best full-size SUVs on the market.
3. Toyota Mirai — Price Starts at $50,000
The Toyota Mirai is an electric vehicle that runs on hydrogen, which is still quite rare. The car itself is also quite stylish, which helps it to stand out even more. While the car is still fairly new, it's already clear that it's a cut above the rest in terms of both style and substance.
The Mirai is It can travel up to 106 miles on a single charge, making it perfect for long road trips. The Mirai is very affordable to operate. It only costs about $50 to fill up the tank, which is much cheaper than gasoline-powered cars.
It comes with an 8-year/100,000-mile warranty, so you can be sure that it will last for many years to come. Toyota provides complimentary maintenance for the first 3 years of ownership. This means that you won't have to worry about unexpected repairs or maintenance bills.
---
Related: The 12 Most Expensive Jaguar Cars on the Market
---
4. Toyota Supra — Price Starts at $44,000
There are many factors that make the Toyota Supra a great car. One of the most important is its performance. Thanks to its turbocharged inline-six engine, the Supra is capable of reaching speeds of up to 60 mph in just 3.8 seconds.
It also has a top speed of 160 mph. The Supra is also known for its excellent handling and braking. Its chassis is rigid and well-balanced, and its brakes are some of the most powerful in the world. It's no wonder that the Supra has become a favorite among racing enthusiasts.
The Toyota Supra is a great car because of its speed, handling, and braking. It's also one of the most expensive Toyota cars on the market with a price starting at $44,000.
5. 2023 Toyota bZ4X — Price Starts at $43,000
The 2023 Toyota bZ4X is a new SUV that has been designed to offer the best possible driving experience. The bZ4X features a unique suspension system that helps to provide a smooth ride, even on rough roads.
The bZ4X is equipped with high-quality tires that provide excellent grip and handling. Furthermore, the bZ4X comes with a powerful engine that offers ample power and torque.
This car features a sleek and stylish design that is sure to turn heads. All of these features combine to make the Toyota bZ4X one of the best SUVs on the market.
---
Related: The 10 Most Expensive Ford Trucks on the Market
---
6. 2023 Toyota Crown — Price Starts at $41,000
2023 Crown is one of the most expensive Toyota models available on the market. It's comfortable, efficient, and stylish. The 2023 Toyota Crown is the best one yet.
It has a sleek new design, a powerful engine, and a host of features that make it the perfect car for anyone. The exterior of the car is sleek and modern, with a sporty look that is sure to turn heads.
The interior is just as impressive, with comfortable seats and a spacious cabin. The car also comes equipped with a number of safety features, making it one of the safest cars on the road.
7. Toyota Highlander — Price Starts at $38,000
Toyota is known for making reliable and practical vehicles, and the Highlander is no exception. This SUV is comfortable and capable, with plenty of room for the whole family. It's also stylish, with a modern design that sets it apart from other SUVs on the market.
The Highlander is a great choice for families who want a dependable vehicle that can handle everyday life. It's also a good option for those who are looking for an SUV that's stylish and practical.
---
Related: The 10 Most Expensive Cadillac Cars Ever Made
---
8. Toyota Avalon — Price Starts at $37,000
As any family knows, a full-size sedan is an essential part of daily life. From carpooling to grocery shopping, a sedan needs to be able to handle it all.
Fortunately, the Toyota Avalon is more than up for the task. With a palatial back seat and a generously sized trunk, the Avalon has plenty of room for both people and cargo.
The Avalon comes standard with a host of features that make life easier, including Bluetooth connectivity and an easy-to-use infotainment system. As a result, the Avalon is the perfect choice for families who need a reliable and comfortable car.
9. Toyota 4Runner — Price Starts at $37,000
The Toyota 4Runner is a popular SUV known for its off-road capabilities. It comes standard with four-wheel drive, a rugged suspension system, and skid plates to protect the undercarriage. The 4Runner is also equipped with a powerful V6 engine that provides plenty of torque for towing and hauling.
When properly equipped, the 4Runner can tow up to 5000 pounds. The 4Runner features a variety of advanced driver assists, including hill start assist and traction control.
These features make the 4Runner an ideal vehicle for those who enjoy spending time off the beaten path. Whether you're hitting the trails or pulling a trailer, the 4Runner is up to the task.
---
Related: The 12 Most Expensive BMW Cars Ever Made
---
10. Toyota Tundra — Price Starts at $37,000
It's clear that Toyota has been listening to its customers, as the new Tundra features a bolder design, a modernized interior, and a twin-turbo V-6 engine with a more powerful hybrid option. The exterior of the new Tundra is more angular and aggressive, with a wider stance and larger wheels.
The interior has been completely redesigned, with a new infotainment system, more comfortable seats, and plenty of storage space. And under the hood, the Tundra now offers a twin-turbo V-6 engine with 437 horsepower and 583 lb-ft of torque.
For those who want even more power, there's also a hybrid option that delivers up to 500 horsepower. With its bold new look, modernized interior, and increased power, the next generation of the Toyota Tundra is sure to turn heads.