Do you want to move to one of the most luxurious suburbs in Melbourne? Are you curious about which neighbourhoods are the most expensive and why?
Find out here as we take a look at some of the most expensive suburban areas in and around Melbourne.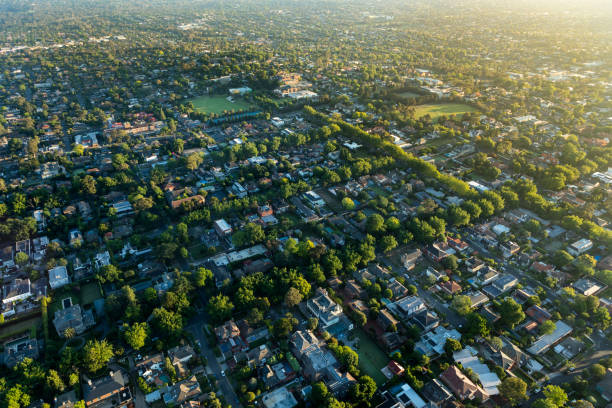 We'll explore the features, amenities and characteristics that make them so sought-after, as well as what makes them more costly than other nearby locations.
The cost of living in Melbourne is one of the most expensive in Australia due to its large population and high demand for housing.
Renting a property, eating out, transportation and entertainment are all costly for Melbournites. However, there are many factors that contribute to this higher cost of living.
Melbourne has a very competitive job market, meaning wages tend to be higher than that seen in other cities or states. Higher incomes allow people to pay more for goods or services since they have the funds available.
This can be seen when looking at rental prices – with high demand apartments and houses generally command higher prices than those found elsewhere in Australia.
Melbourne is home to some well-known universities; such as RMIT University and Monash University amongst others thus leading to an influx of students each year wanting accommodation close to their respective campuses.
This ensures a steady demand for student-friendly rentals close by university suburbs such as Southbank and inner city suburbs including Carlton & Fitzroy driving up rental prices even further.
Greater Melbourne encompasses a wide range of suburban areas from affluent waterfront neighbourhoods such as Main Ridge & Brighton to industrial areas like Footscray & Dandenong where most industries have been located since the 1800s.
Therefore, the cost of living will vary depending on where you live; suburban areas closer to the city centre generally tend to command higher prices due to their proximity to universities, entertainment and job opportunities thus making them more desirable locations for renters.
Here are the most expensive suburbs in Melbourne.
Most Expensive Suburbs in Melbourne
Main Ridge
Main Ridge is a small, picturesque suburb located about 1 hr 8 min from the bustling heart of Melbourne city.
This picturesque and serene area offers spectacular year-round views of Port Phillip Bay, Westernport Bay and the surrounding areas.
With its close proximity to the beach, it's easy to see why this upmarket location has become such a desirable place to live.
Despite its secluded location and modest population of 416, this isolated hamlet is the most expensive suburb in Greater Melbourne, with an astonishing median house price of $4M.
This coastal part of town attracts many locals and international tourists alike due to its stunning views of Port Phillip Bay and the sprawling skyline of Melbourne city beyond.
However, despite this cost factor, there are plenty of reasons why people choose to call this exclusive suburb home – including its excellent schools, convenient access to major airports, exquisite coastline and wealth of surrounding wineries – making Main Ridge one of Melbourne's premier residential locations in Melbourne.
Merricks North
Located just 91 kilometres from Melbourne's bustling central business district, the quaint suburb of Merricks North is a popular destination in Mornington Peninsula for those who want to live close to nature.
With breathtaking coastal views and an isolated countryside atmosphere, the area offers a peaceful retreat from the hustle and bustle of city life.
Merricks North has an estimated population of 423 according to the 2021 census with a median house price of $41M.
Over the past year, just two houses have been sold in this serene town, the highest sale being $2.3M making it one of the most desirable areas in Victoria.
Its close proximity to Hastings provides easy access to amenities such as shops and entertainment while also allowing homeowners to maintain their privacy and luxury lifestyle.
Portsea
Portsea is one of the most affluent suburbs in Melbourne, with luxurious residential properties and many upscale amenities.
The area features a wide range of impressive Victorian-style residences and modern beach houses, along with extravagant waterfront mansions.
Many luxury boutiques, galleries, cafes and fine dining restaurants are located within this area as well.
It is known for its stunning views overlooking Port Phillip Bay, making it a popular location to visit or live in.
The median house price within Portsea sits at an impressive $4.8M, attracting prominent figures such as founders of engineering companies Lindsay Fox and Eddie McGuire, and late politician Ron Walker to buy properties here.
The suburb also boasts lush parks and nature reserves, adding to its attractive atmosphere.
Visitors come from near and far to experience the tranquil beauty of Portsea's coastal parks and beaches while enjoying the relaxed lifestyle of this exclusive neighbouring town.
Homeowners here enjoy all the benefits that come with living in such an affluent area including low crime rates, excellent schooling options for children and proximity to major transport links into the city Centre.
Flinders
Flinders is an exclusive beachside town with a population of 1,130 (2021 census) people situated on the Mornington Peninsula, just 104 kilometres from Melbourne.
Known for its extravagant mansions and sprawling estates, Flinders offers some of the most luxurious residential properties in Australia.
This is evident in its median home price of $3.9M – which has been the highest of all coastal suburbs over the last 12 months – where about 45 houses and one unit have been transacted.
The most expensive sale during this period was an incredible $11 million – making it one of Victoria's priciest properties!
You can also find a private golf course and yacht club throughout the area, further adding to its prestige.
Point Leo
Point Leo, a quaint surfing locale situated in the rural hinterland of Victoria's picturesque Mornington Peninsula, is 97 kilometres southeast of the bustling city of Melbourne.
The suburb was founded in the 1940s and enjoys a high-value real estate market, boasting an impressive median house price of $3.2M.
This figure is substantiated by its highest sale price over the past year – a luxuriously commanding $1.2M sum paid for one lucky property.
However, as one might expect from such an exclusive area – characterized by its postcard-like atmosphere – Point Leo has had limited house sales in recent times.
Toorak
Tucked behind the hustle and bustle of Melbourne's city centre lies the affluent suburb of Toorak – an area coveted by many for its prestige, luxury and allure.
Home to some of Australia's most recognisable faces such as the Myers family, Eddie McGuire, Dame Elisabeth Murdoch (mother of Rupert) Lindsay Fox among many others, Toorak is considered one of the most expensive suburbs close to the CBD with a median house price of $3M.
The 2021 census estimated resident population for Toorak is 12,959, with a population density of 3,031 persons per square km.
It is an attractive destination for those seeking exclusive living options just five kilometres away from Melbourne's CBD.
Moorooduc
Heading back along the Mornington Peninsula is the picturesque suburb of Moorooduc, which has an average house price that ranges around $3M.
Located 54 kilometres away from Melbourne CBD and 13 kilometres in distance to Frankston, Moorooduc's population makes up just over 1,004 people (2021 census).
The highest sale price of a property within the past 12 months was recorded at a staggering $3M.
Moorooduc is an attractive township that offers its residents a semi-rural lifestyle; which could be why so many locals have chosen to remain here for years on end.
Canterbury
Canterbury, a suburb situated to the east of Melbourne about 10 kilometres from the city centre, is known for its attractive neighbourhoods and safe living environment.
It is also the home of some prominent residents such as the Minogue family and former Liberal Party leader, Andrew Peacock.
However, if you are looking at buying into this highly sought-after slice of suburban life it will come with an expensive price tag.
The median house price in Canterbury stands at $2.9M and there have been reports of prices reaching up to an extravagant $15 million!
Brighton
Brighton is an affluent beachside suburb situated 11 kilometres southeast of the bustling centre of Melbourne.
It was named after Brighton in the UK and is home to around 23,549 residents according to the 2021 census.
With its sandy beaches, crystal-clear waters and picturesque streets, it's no wonder why many choose Brighton as their place of residence!
The median house price in Brighton currently stands at a whopping $2.6M. This is high considering its large population size.
In recent years, however, the highest price ever recorded for a property in this suburb was an unbelievable $22 million – thereby setting the standard for future sales within Brighton itself!
Kooyong
Kooyong is a well-known suburb of Melbourne located in the inner south-east of the city.
It's an affluent area, with a range of luxurious properties that are often bought by wealthy business families and celebrities alike.
The suburb boasts excellent amenities including high-quality restaurants and shops, as well as plenty of green space to enjoy.
It also has easy access to some of the best schools in Melbourne, making it an attractive location for those with school-age children.
That's not all – Kooyong had its highest house sale record at a staggering $5M in that same time period!
With its picturesque tree-lined streets and elevated position looking out over beautiful Port Phillip Bay, Kooyong is truly one of Melbourne's premier suburbs – but with such prime real estate comes a price tag to match.
Property values here are among some of the highest in all of Melbourne, making this desirable location one that only the most financially privileged can afford.
Kangaroo Ground
Kangaroo Ground is a suburb located 26 kilometres northeast of Melbourne's bustling city centre.
Serving as home to 1,208 people (2021 census), this small village-like settlement lies hidden amongst the undulating hills and eucalyptus trees of Victoria's outer suburbs.
With median home prices currently at $2.8M, prospective buyers should expect to pay upwards of that amount for quality housing in the area.
There are many public walking trails for exploring local wildlife nearby as well as numerous bike paths connecting Kangaroo Ground to surrounding suburbs, creating a charming and convenient way to get around town.
In addition, it's host to several large sports grounds where residents can practice their favorite sports or participate in club activities all year round.
Kangaroo Ground also provides good access to local amenities such as shops, schools and medical services within easy reach either on foot or by car.
Plus you'll find plenty of restaurants serving up delicious treats that cater to all tastes plus caffeine hit too!
With so much going on here it's easy to see why this suburb remains one of the most sought after areas in Melbourne and continues to attract those who seek a premium lifestyle surrounded by quality amenities not far from downtown life.
Albert Park
Albert Park, located just three kilometres south of the heart of Melbourne city, is easily the most exclusive inner-city suburb in the area.
Its population of 6,000 people enjoy an impressive median house price of $2.6M – ranking it among Australia's most expensive suburbs.
Residents are able to embrace city living due to its close proximity to many key areas like St Kilda Road ᅳ one of the main corporate hubs for financial and legal services ᅳ as well as Southbank Promenade renowned for its fabulous dining options.
In addition to its luxury appeal, Albert Park residents also have access to activities such as sailing at nearby beaches or taking part in boating activities at Sandringham Yacht Club which adds even more value and prestige to this exclusive suburb.
Balnarring Beach
Balnarring Beach is a stunning coastal oasis, located just over an hour's drive from Melbourne on the Mornington Peninsula.
With only 471 lucky residents, this suburb has become one of the most sought-after areas on the peninsula.
This popularity is reflected in its respective median house prices and weekly rents.
The median house price was an impressive $2.6M during the last year, with many properties reaching a peak sale price of $2.3M.
The popularity of Narring Beach comes down to more than just financial factors, however – it offers a wide range of activities to do throughout the year.
From swimming at the beach to taking leisurely strolls along the many ocean-facing promenades, this idyllic place provides plenty to do during summer months or winter chillier days alike.
Those living here can also take advantage of great shopping choices ranging from local independent stores right through to popular chain retailers situated close by – perfect for stocking up on food supplies or browsing gifts for friends and family back home!
Most Expensive Suburbs in Melbourne
Main Ridge
Merricks North
Portsea
Flinders
Point Leo
Toorak
Moorooduc
Canterbury
Brighton
Kooyong
Kangaroo Ground
Albert Park
Balnarring Beach