Handbags are no longer merely an adornment or a pouch for transporting employees and essential goods.
The handbag is a fashion statement that expresses your social standing and image.
Some try to present it as an expression of their individuality, while others stick to the basics and flaunt their money.
With only one purse, you may be bold, delicate, demure, stylish, cool, and classy, or anything else you like.
Yes, it is no longer a luxury, but rather a requirement that will be closely examined and inspected by others.
It's an unfortunate truth of life that women who aren't secure in their handbags feel intimidated in social situations.
If you want to appear and feel your best, it must be a great fit. Every woman fantasizes about possessing the most costly handbag in the world so that she may make a statement when she walks into any place.
Women have begun to seek premium handbags with a reputable designer brand as times have changed.
The demand for limited edition products is increasing as women intuitively use elegant and opulent purses to get an advantage over others.
1. Mouawad 1001 Nights Diamond Purse – $3.8 Million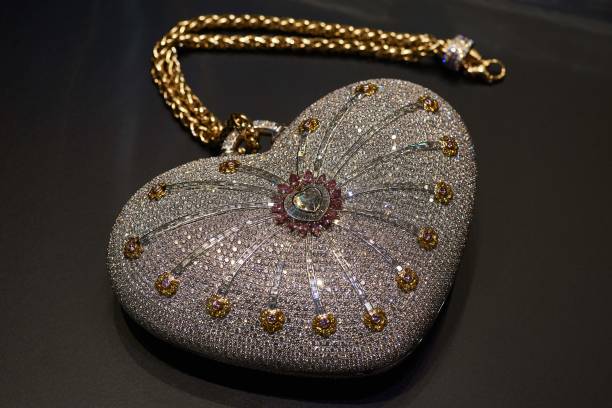 The Mouawad 1001 Nights Diamond Purse remains the most expensive purse in the world, with its record lasting unbroken in the Guinness Book of World Records since 2011.
This is to be expected from an Emirati luxury goods firm that holds five Guinness World Records for some of the world's most costly things.
This includes the Mouawad 1001 Nights Diamond Purse, a handcrafted 18-karat gold heart-shaped purse made by artists who put in 8,800 hours of hard work.
It is set with 4,517 diamonds, including 105 yellow diamonds, 56 pink diamonds, and 4,356 colorless diamonds.
This one-of-a-kind luxury item was auctioned off at Christie's auction preview in Hong Kong last year.
2. Hermes Kelly Rose Gold – $2 Million
The Hermès Kelly Rose Gold bag sells at auction for $2 million, making it the most costly Hermès purse ever sold.
Hermès and jeweler Pierce Hardy partnered to create this lovely tiny handbag made of genuine rose gold, with a texture that resembles leather made of pure gold as well.
Kelly Rose Gold by Hermès is decorated with 1600 diamonds, took two years to construct, and is restricted to only 12 pieces in three separate versions.
3. Hermes Birkin Bag by Ginza Tanaka – $1.4 Million
Hermes Birkin Bag was created by Japanese designer Ginza Tanaka and features removable sections that may be used to accessorize oneself.
It's composed of platinum and has 2000 diamonds on its outer shell, as well as a pear-shaped 8-karat stone as a centerpiece that can be detachable and worn as a brooch.
4. Hermes Chaine'd Ancre Bag – $1.4 Million
This is more of a piece of art than a bag, with features and style so intricate that you'd be better off making a display case for it rather than carrying it around.
Pierre Hardy also created this, which features 1,160 diamonds set in carefully placed white gold studs (totaling 33.94 carats).
Only three were manufactured, making it a collector's item like the Sac Bijou.
5. Lana Marks Cleopatra Clutch – $400,000
The Cleopatra Clutch was formerly a red carpet staple, worn by stars such as Helen Mirren, Angelina Jolie, and Kate Winslet.
Each personalized iteration, which costs between $100,000 and $400,000, is a one-of-a-kind combination of exotic skins, beautiful gems, and precious metals that is equally as opulent as the previous.
6. Niloticus Crocodile Himalaya Birkin – $379,000
With a price tag of 379,000 US dollars, the Niloticus Crocodile Himalaya Birkin has joined the ranks of the world's most expensive purses.
The craftsmanship, color, and design have all led to it becoming a rare and expensive piece that its owners regard as something extremely precious.
Crocodile Niloticus Himalaya Birkin is created with the assistance of Niloticus crocodiles. To soften the color of the cloth, the business used a dying procedure that takes hours but yields spectacular results.
When you look at the Himalayan Birkin, you can immediately imagine the rich-brown Himalayan Mountains with their white snow-capped peaks.
Recently, at Christie's, a Niloticus Crocodile Himalaya Birkin embellished with 240 diamonds on its 18-karat gold shell sold for 379,000 US dollars, breaking the previous record of 300,108 US dollars set in 2016.
7. Chanel "Diamond Forever" Handbag – $261,000
Chanel is a French fashion brand specializing in high fashion and luxury items for ladies.
Coco Chanel launched the firm in 1909 as 'House of Chanel,' and it has since grown to become one of the world's top luxury brands.
It employs over 20,000 people globally and earns billions of dollars in income each year.
Chanel has grown enormously famous in the handbag business, and some of its special bags are extremely valuable.
Consider the 'Diamond Forever' handbag. With a price tag of $261,000, it is the world's fourth most expensive purse, establishing Chanel as one of the most expensive handbag companies.
Only 13 of these purses were constructed in 2007, and they are made of white-coated alligator leather with 334 diamonds and an 18-carat gold handle.
8. Fuchsia Diamond-Studded Hermes Birkin – $222,000
Hermes Birkin bags appear to be in a league of their own, as they continue to break their records for the most expensive purses sold.
With its 18-carat white gold and diamonds, this fuchsia-colored Hermes Birkin bag will catch your attention at first glance.
During a Christie's auction in Hong Kong in 2015, this gleaming purse received a price of $1.72 million Hong Kong dollars.
9. Hermes Exceptional Collection Shiny Rouge H Porosus Crocodile 30 cm Birkin Bag – $203,150
The Hermes Exceptional Collection Shiny Rouge H Porosus Crocodile 30 cm Birkin Bag is one of the most expensive handbags in the world, with 18-karat White Gold and Diamond Hardware.
It was auctioned off as the most expensive handbag some years ago at Heritage Auctions in Dallas when an unidentified collector won the bidding.
10. Blue Crocodile Hermes Birkin Handbag – $150,000
Hermes has designed a beautiful, strong, and durable handbag that is also a one-of-a-kind fashion statement. It was created specifically for females who want a dependable bag for regular usage.
The Blue Crocodile Hermes Birkin Handbag is highly useful and addresses the problem of not having enough room to hold numerous items in one bag.
At a Christie auction in Mayfair, London, a blue crocodile Hermes Birkin Handbag sold for an incredible $150,000 to an unnamed bidder.
It has now successfully joined the list of the world's most costly purses. The Birkin handbag is constructed of 18-karat white gold and diamonds, giving it a luxurious appearance.