Are you looking for a luxurious and lavish experience in Los Angeles? There are some of the most expensive hotels around, such as the Peninsula Beverly Hills, Four Seasons Los Angeles at Beverly Hills, and Hotel Bel-Air.
These luxurious 5-star properties offer guests unparalleled services, amenities, and experiences. Each offers its own unique features which can take your stay to the next level.
With world-class restaurants on site, decadent spa treatments available, and signature suites showcasing extraordinary design details – these hotels will make you feel like royalty!
Trip Advisor ranks these luxurious LA resorts amongst the very best in terms of luxury amenities making them perfect for those who want to truly indulge their senses!
Most Expensive Hotels in Los Angeles
1. The Maybourne Beverly Hills
The Maybourne Beverly Hills is an emblem of extravagance situated in the affluent Golden Triangle area of Beverly Hills.
You can enter The Maybourne through a plush walkway on Canon Drive, or through its rear gate which is connected to the attractive and peaceful Beverly Canon Gardens.
Upon arriving, guests will be instantly impressed by the opulent decor of their airy rooms equipped with lavish bathrooms, top-notch beds, and unrivaled amenities.
For a truly unique experience, visitors should make sure to visit The Rooftop Grill for breakfast where they can savor stunning views of the Hollywood Hills while treating themselves to freshly pressed juices such as The Green Drink (spinach, celery, kale, ginger, cucumber green apple, and lemon).
In addition to these facilities – including an award-winning spa offering various treatments like massages and facial therapies – the hotel has a gymnasium with modern workout equipment along with private swimming pools fed using mineral water plus steam baths and saunas.
All these features make The Maybourne one most expensive hotels in Los Angeles that fully embraces indulgence at its finest.
2. The Beverly Hills Hotel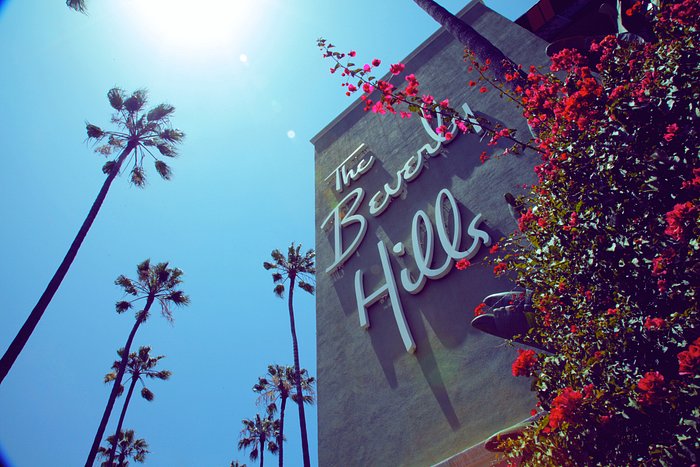 The Beverly Hills Hotel, also known as the 'Pink Palace', has been a destination for glamorous travelers and Hollywood stars alike over the last century.
Its 12 acres of tropical gardens offer a secluded sanctuary combined with all the modern amenities guests could desire.
Inside, 208 rooms and suites await visitors, along with 23 luxurious private bungalows that take away-from-home living to another level.
The two 5,000 square feet Presidential Bungalows boast three bedrooms, and three-and-a-half bathrooms each featuring its own pool, outdoor shower, and full office – perfect for business travelers.
Plus these stately spaces come appointed with everything a guest would need to feel comfortable including an expansive great room, dining area, and kitchen.
To top it all off, welcome gifts await your arrival in the form of Champagne,, fresh flowers, fruit platters, and treats from The Beverly Hills Hotel's dedicated staff.
3. Hotel Bel-Air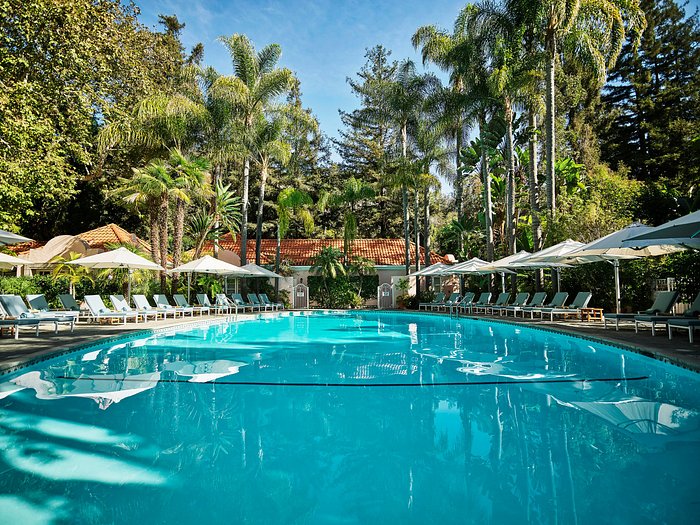 Tucked away in the private canyon of the Bel-Air Estates neighborhood of Los Angeles, Hotel Bel-Air is a luxurious escape full of Hollywood history.
This Forbes Travel Guide Four-Star hotel features 58 guest rooms and 45 suites with views looking onto 12 lush acres of landscaped gardens.
Each room has been designed with marble floors, limestone walls, and natural wood finishes that create an elegance unlike any other.
Hotel Bel-Air stands out from the rest for its unique amenities such as world-renowned celebrity chef Wolfgang Puck's restaurant and bar offering fresh eats created from California-meets-European influences.
To further enhance the experience, visitors can relax at the seven treatment rooms found at Hotel Bel-Air Spa or steam out in their mosaic steam room.
With these one-of-a-kind luxuries, it's no surprise that Hotel Bel Air is known as one of the most expensive hotels in Los Angeles.
4. Oceana Santa Monica, LXR Hotels & Resorts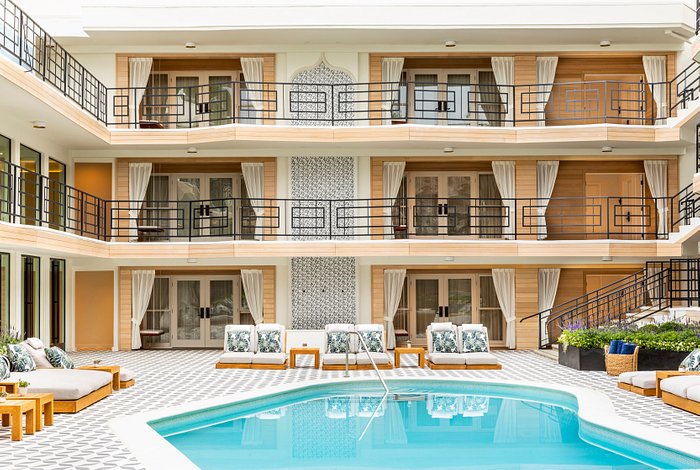 Oceana Santa Monica is one of the most expensive hotels in Los Angeles. After a $30 million renovation completed in 2019, this ivy-covered luxury hideaway offers breathtaking views of the Pacific Ocean and 70 elegant suites fit for royalty.
Designed by Anna Busta of Busta Studio in New York City, each suite's decor evokes a comforting home away from home atmosphere, with Frette linens, Nepalese rugs, Bottega Veneta bathroom amenities, and modern art from local artists adorning the walls.
Guests can enjoy an open-air courtyard with a pool and deck surrounded by lush landscaping featuring lemon trees and lavender that invoke an oasis vibe.
To complete the experience is Sandpiper restaurant run by acclaimed chef Kaleo Adams (formerly from The Maybourne Beverly Hills).
Here guests can peruse a menu of elevated California Nouveau cuisine featuring seasonal produce sourced straight from the famous Santa Monica Farmer's Market such as watermelon frisee salad or grilled octopus with Kumquat Chimichurri.
Located in the posh beach-side city of Santa Monica, Oceana Santa Monica is certainly a luxurious and unforgettable stay.
5. Waldorf Astoria Beverly Hills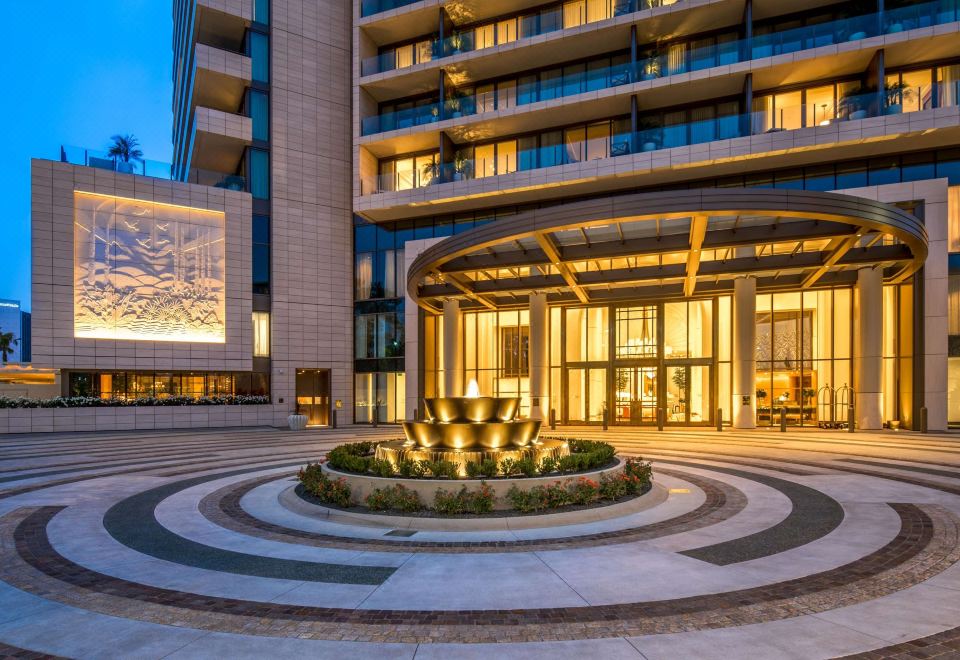 The Waldorf Astoria Beverly Hills is the epitome of luxury living, situated right in the heart of Los Angeles.
Spread across a whopping 170 guest rooms and suites, this hotel offers incomparable opulence to its guests with amenities to match.
The Presidential Penthouse Suite occupies the roof level and extends over 3,215 square feet of space alongside a massive 1,459-square-foot terrace offering breathtaking views of Wilshire Boulevard and Santa Monica.
From floor-to-ceiling windows infusing natural light into your mornings to Crestron smart home system taking care of all your needs without you lifting a finger – few experiences offer such indulgence as this suite does.
If that wasn't enough, it also features a private spa treatment sanctuary where you can indulge in some rest and relaxation as well as a personal home theater for screening movies with friends along with a fully equipped kitchenette and dining area for meals together.
All these characteristics make The Waldorf Astoria Beverly Hills one of the most expensive hotels in Los Angeles today!
6. Four Seasons Hotel Los Angeles At Beverly Hills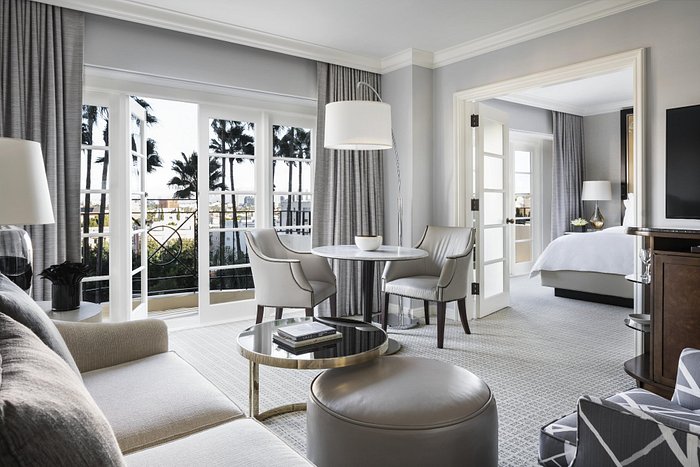 The Four Seasons Hotel Los Angeles at Beverly Hills is a luxurious five-star hotel located on Doheny Drive in the heart of Beverly Hills.
Its beautiful lobby features vibrant floral arrangements, creating an inviting and elegant atmosphere.
This sought-after accommodation offers guests convenient access to the glamorous shopping area of Rodeo Drive and Robertson Boulevard, ideal for visitors wishing to purchase designer brands or splurge on special items.
The hotel itself provides a selection of fine dining experiences from Culina restaurant's sophisticated menu.
On top of this, there is also a stunning rooftop pool where guests can spring into relaxation mode with panoramic views over LA's cityscape.
With its fabulous location, amenities, and services, the Four Seasons Hotel Los Angeles at Beverly Hills is often listed among the most expensive hotels in Los Angeles.
7. Beverly Wilshire, A Four Seasons Hotel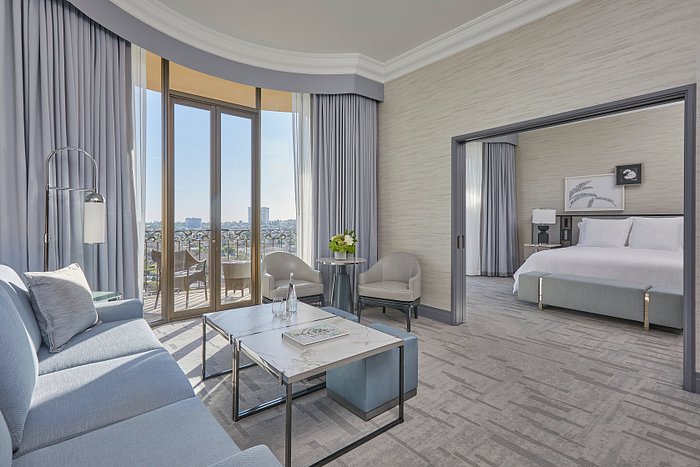 The Beverly Wilshire, A Four Seasons Hotel is located just steps away from the world-famous Rodeo Drive shopping and dining area, this exclusive hotel offers 395 guest rooms and 137 deluxe suites.
But perhaps its most impressive feature is its Penthouse Suite, located on the private 14th floor of the Beverly Wing.
This opulent Los Angeles accommodation boasts 5,000 square feet of living space including three bedrooms and a wrap-around terrace with stunning 270-degree views across the cityscape.
For hosting special events or entertaining friends there is an adjacent formal dining room with seating for ten and a show kitchen plus a media room.
The master bedroom features an extravagant walk-in closet and en suite bathroom with a spa shower and deep soaking tub.
It's certainly no surprise that Beverly Wilshire's Penthouse Suite is considered to be one of the most expensive hotels in Los Angeles for those seeking true grandeur during their stay in Tinseltown!
8. The Peninsula Beverly Hills
Located in the upmarket neighborhood of Beverly Hills, the Peninsula Beverly Hills is one of the most expensive hotels in Los Angeles.
This luxurious five-star property offers guests an unforgettable experience with its old-world charm and attention to detail.
From the 24/7 tech centers that allow for control over ambiance and lighting to lush Oscar de la Renta bathroom amenities, this hotel goes above and beyond to ensure your comfort and luxury.
Relaxation can be found in their rooftop garden or poolside cabanas featuring heated limestone flooring.
In addition, The Living Room – located just off the lobby – is a prime destination for the city's power elite who come here for sipping high tea or unwinding on comfortable couches with evening cocktails.
9. L'Ermitage Beverly Hills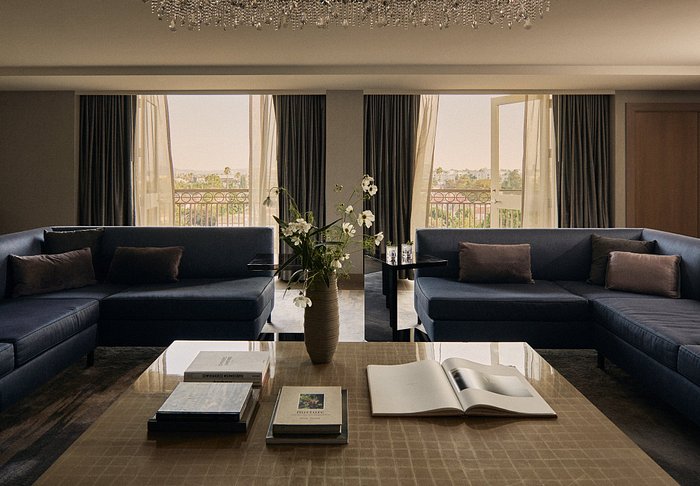 The Viceroy L'Ermitage Beverly Hills is one of the most luxurious and expensive hotels in Los Angeles.
Located on tree-lined Burton Way in Beverly Hills, it offers a perfect blend of convenient proximity to Rodeo Drive's upscale restaurants and shopping, with unrivaled privacy for their guests.
It's easy to see why this premier hotel has garnered Forbes Five Star and AAA Five Diamond ratings.
With studio suites and residential suites available, there is truly something for everyone hereᅳfrom the business traveler looking for some rest and relaxation during a trip away, to those seeking space to entertain others.
The crown jewel of the accommodations offered at Viceroy L'Ermitage Beverly Hills is undoubtedly its Presidential Suite.
10. The Beverly Hilton
The iconic Beverly Hilton, located in the upscale Golden Triangle shopping district of Beverly Hills, has been a renowned celebrity hotspot since its grand opening in 1955.
To mark the occasion, Conrad Hilton hired women to greet guests from atop pink elephants, and none other than Esther Williams christened the pool with her inaugural plunge!
Since 1961 its iconic ballroom has had the honor of playing host to many red-carpet events and glamorous occasions – most notably being an annual stop for The Golden Globes.
Its public spaces also offer vintage photographs of beloved figures such as Frank Sinatra and Audrey Hepburn hung along its walls; adding to that nostalgic 50s feel that still lingers in the air today.
Noted for feeling both retro-chic yet modernized at once, each suite is outfitted with timeless midcentury furnishings and bright white or pale cyan decor adding an extra bit of opulence that befits their star guests.
In addition, luxury amenities can be found on sites like Upgrade Labs; a high-tech gym featuring cutting-edge health innovations, or food lovers may choose CIRCA 55; a namesake restaurant focusing on Italian cuisine.