India is a country of great diversity and contrast, offering a plethora of experiences that can be tailored to any sort of holiday.
From the glittering Taj Mahal to the breathtaking beaches of Goa, the snow-capped Himalayas to the serene backwaters of Kerala, and from the arid Thar Desert of Rajasthan to the lush green tea plantations of Assam, India has an abundance of options for travelers looking for luxury hotels.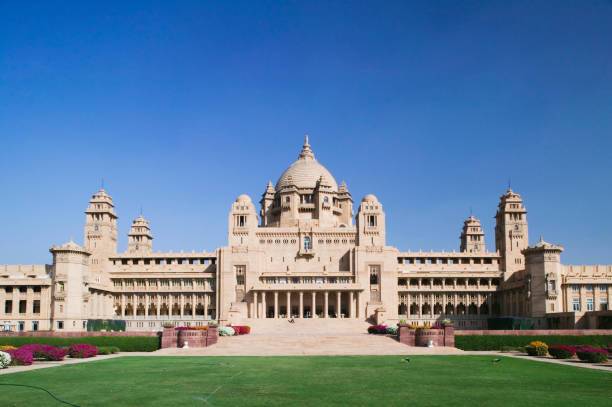 There are so many reasons why people choose to stay in a luxury hotel. Some want the best service and amenities, others want the best views, and some travelers just like to feel pampered.
On the other hand, some can afford to spend thousands of dollars nightly for a hotel room because they want to show off their wealth and power.
If you're looking for a luxury hotel that's extravagant in every way, we got you covered.
From the most expensive suites to some of the largest penthouse suites in the world, this list of the 10 most expensive hotels in India will make your jaw drop!
1. Rambagh Palace, Jaipur
Known as one of Rajasthan's best luxury hotels, Rambagh Palace has accommodations that can cost over $2,000 a night.
The palace was built at the turn of the 20th century and is located within 3 acres of lush gardens.
Guest rooms are lavishly decorated with hand-woven fabrics and marble baths with gold fixtures.
A highlight for visitors is a tour of three opulent palaces within its property walls, including a guesthouse that was once home to British viceroys and an area where royalty would hunt tigers.
Guests have access to an 18-hole golf course, spa treatments, and body therapies at any time throughout their stay.
2. Umaid Bhawan Palace, Jodhpur
Nestled within a royal residence at Umaid Bhawan Palace in Jodhpur is a place that is still regarded as one of the most expensive hotels in India.
The splendid palace, built by Maharaja Umaid Singh Ji of Marwar-Jodhpur, was created out of sheer opulence and luxury.
Today, it has been converted into an international hotel that offers five-star facilities to guests who want to feel like royalty for a few days! From magnificent living quarters to exquisite cuisine from around the world, guests can experience opulence at its finest.
Located within Jodhpur itself, Umaid Bhawan Palace is not only one of India's most expensive hotels but also one of its most famous.
3. Taj Lake Palace, Udaipur
One of India's most iconic and expensive hotels, Taj Lake Palace is a 19th-century hotel that blends historic maharaja decor with western luxury.
The hotel, located on an island on a lake in Udaipur, is often used as a film set; scenes from Mission Impossible 3 and Dasavathaaram were filmed here.
The expansive property includes traditional Indian courtyards and gardens.
Guests can rent electric boats to explore nearby lakes. Rooms start at $400/night.
4. The Oberoi Udaivilas, Udaipur
A castle on a cliff overlooking Lake Pichola, Udaivilas is an Indian fairy tale that comes to life.
From its Indo-Aryan architecture to its museum, world-class spa, and Michelin star chef, Udaivilas is definitely for those who want to spoil themselves silly.
The majority of rooms are palatial suites with private pools and some even have their terraces.
While staying here will burn a deep hole in your pocket, it's not just about money: at Udaivilas you can feel like royalty without having to be born into it.
5. The Leela Palace, New Delhi
Approximately $15,000 per night. This five-star hotel is located in New Delhi and caters to affluent travelers.
You can find a list of reviews for The Leela Palace on TripAdvisor. Many guests comment on the hotel's excellent location and modern amenities such as a swimming pool, spa, and tennis courts.
Room rates are high at The Leela Palace but may be worth it for business trips or other important events when you need to feel like you're on top of your game from start to finish.
6. Taj Land Ends, Mumbai
The most expensive hotel in the country, this hotel offers rooms with panoramic views of the Arabian Sea.
Located in the Bandra region of Mumbai, it serves as a great option for international tourists since it is close to the airport.
The hotel provides 24-hour room service to guests. A breakfast buffet is available daily at the Sunset Bar and Grill.
Guests can choose from several dining options that include Neel Tandoori restaurant, Masala Bay Indian restaurant, and Wasabi by Morimoto.
7. Kumarakom Lake Resort, Kerala
Kumarakom Lake Resort, Kerala is one of the most expensive hotels in India.
Kumarakom Lake Resort is an ultimate resort property surrounded by the Vembanad Lake and a wide garden.
The hotel has been given tough competition by many others, but it still stands as one of the most expensive hotels in India where you can enjoy a royal stay.
If you are looking for an ideal weekend getaway or vacation in India with your family, Kumarakom Lake Resort is one of the best options.
8. The Oberoi Amarvilas, Agra
The Oberoi Amarvilas, Agra has a starting room rate of Rs. 38,000 ($550 USD) per night.
The hotel is located 600 meters from the Taj Mahal, which makes it one of the best places to stay for people visiting this iconic monument.
The hotel's 102 rooms and suites feature private balconies with uninterrupted views of the Taj Mahal.
The soul of this luxury hotel lies in its interiors – a blend of Mughal and contemporary architecture. An epitome of luxury and comfort, this hotel provides panoramic views of the Taj Mahal from every room.
This 5-star property has 86 rooms with private balconies overlooking the Taj Mahal.
Every room is equipped with modern amenities such as flat-screen television, digital safe, mini bar, and 24-hour butler service. A variety of cuisines from around the world is served at its restaurants to die for!
 9. The Oberoi Rajvilas, Jaipur
The Oberoi Rajvilas is a luxury hotel resort in Jaipur, India. The resort is located on the outskirts of the city and is spread over 32 acres.
It is surrounded by the Aravalli Hills while remaining close to Jaipur International Airport and other attractions. The property features an outdoor swimming pool, fitness center, and spa.
All guest rooms are air-conditioned and come equipped with a flat-screen TV and a private bathroom. Other room amenities include a seating area, tea/coffee maker, and desk.
Guests can dine at one of the on-site restaurants or have a drink at The Bar.
Indian, Continental, and Asian cuisine are served at Surya Mahal restaurant, while beverages and light refreshments are available at Surya Bar. The property also offers 24-hour room service.
10. Taj Falaknuma Palace, Hyderabad
A UNESCO World Heritage Site, the Taj Falaknuma Palace is one of the finest luxury hotels in India.
Situated 2,000 feet above the city of Hyderabad, you'll find a palace where the Nizam once entertained royalty, statesmen, and great artists.
The hotel was opened in 2010 by Taj Hotels Resorts and Palaces following a painstaking restoration that took eight years to complete.
A two-story grand staircase dominates the entrance lobby of the Falaknuma Palace, which has 60 lavish rooms and suites.
No fewer than 22 unique spaces are available for guests to enjoy their meals and they range from a casual Italian restaurant to an all-day dining restaurant, an Indian specialty restaurant, and round-the-clock private dining rooms with butler service.
The hotel has several bars including the Cavalry Bar, Jade Room, Library Bar, Pool Pavilion, and Visiting Dignitaries Pavilion.
For relaxation, there is the Jiva Spa, indoor heated Olympic-sized swimming pool, billiards room, and cigar divan.
There is even a museum dedicated to the history of the Falaknuma Palace.