Are you looking for the most expensive hotels to stay in Houston? Houston is home to some of the most luxurious and delectable hotels in the world.
From renowned international brands such as Four Seasons to local hidden gems like The Post Oak Hotel, each property offers a unique experience for visitors.
These establishments offer sophisticated amenities and stellar service that will no doubt meet even the highest expectations.
Furthermore, patrons have convenient access to some of Houston's popular culinary choices ranging from smoky Texas-style barbecues to freshly caught seafood from the Gulf of Mexico.
With any one of these exquisite hotels, you'll find yourself with one foot firmly inside Houston's booming food scene.
From indulgent spa treatments to extravagant dining options in chic restaurants, these sublime properties will make sure your trip is truly unforgettable.
Most Expensive Hotels in Houston, Texas
1. The Post Oak Hotel at Uptown Houston
The Post Oak Hotel in Houston, Texas is an extraordinary and luxurious experience that offers a unique blend of modern amenities and elegant surroundings.
Located on 10 acres of picturesque oak trees, this 38-story tower provides 250 of the most lavish guestrooms and suites, making it perfect for short or extended stays.
It is also home to 20 executive residences which come with all the cutting-edge features one could hope for.
The impressive 35,000-square-foot conference facility makes it ideal for conferences, business meetings, weddings as well as other special occasions.
In addition to its many accommodations, The Post Oak Hotel also has several remarkable amenities such as the only Forbes Five-Star Spa in Texas.
Guests can also enjoy the use of the state-of-the-art Technogym fitness center which has all the latest exercise equipment.
Car enthusiasts will swoon over the two-story Rolls Royce showroom and onsite Bentley and Bugatti Post Oak Motors dealership where they can browse exclusive high-end vehicles while spoiling themselves with some retail therapy from 29 North boutiques which stocks designer labels from around the world.
2. Four Seasons Hotel Houston
Located in the heart of downtown Houston, The Hotel is an iconic 30-story tower that provides luxury accommodations to many visitors.
With 468 rooms, including 289 guest rooms and 115 suites, as well as 64 residences, guests are sure to be enchanted by the hotel's blend of urban sophistication with bold Texan hospitality.
Featuring a roof-top oasis with a resort-style pool, 24-hour In Room Dining, and The Spa for therapeutic treatments and pampering services – everything one needs for R&R is available.
The property also features two acclaimed restaurants from Chef Partner Richard Sandoval: Toro Toro – a Pan Latin Steakhouse – and Bayou & Bottle bar located on the lobby level, as well as Pool Deck Café.
Just blocks away from various entertainment venues like stadiums and museums such as Museum District; makes it easy for guests to experience all this vicinity has to offer.
As one of Houston's most expensive hotels, this gem offers ultimate relaxation while being close enough to have fun during their stay.
3. The St. Regis Houston
The St. Regis Houston is a premier destination for travelers seeking an opulent, one-of-a-kind experience when visiting the bustling city of Houston.
Located conveniently between River Oaks and the Galleria, this 4-star luxury boutique hotel offers guests all the class and comfort they need to make their stay unforgettable.
Abound with lavish amenities such as luxurious guest rooms, an onsite spa, exquisite dining options featuring seasonal American cuisine at The Remington Restaurant, craft cocktails accompanied by live music at The Remington Bar, and traditional Afternoon Tea services in a cozy tea lounge.
it's no wonder why The St. Regis Houston is considered one of the most expensive hotels in town!
With 10,000 square feet of event space available that can accommodate business meetings, upscale dinner receptions, and more; coupled with its attentive butler service – this establishment is sure to exceed any expectations for your stay in Houston!
4. La Colombe d'Or hotel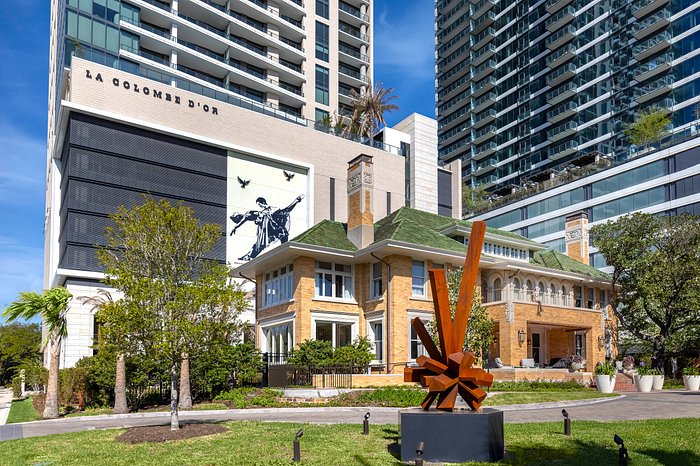 La Colombe d'Or is a luxurious hotel nestled in Houston's vibrant Montrose neighborhood. This hotel honors the famed French establishment of the same name, which was once home to Pablo Picasso's favorite water hole.
It features an art gallery and sculpture garden, showcasing over 400 pieces of exquisite artwork, alongside energetic cultural experiences with modern amenities.
With just 32 suites spread across three unique stay experiences, guests can enjoy its state-of-the-art fitness facility & linear rooftop pool located on the 10th floor – offering beautiful downtown views to accompany your daily swims or workouts.
Plus they have a social lounge equipped with LCD TVs and table games to entertain you during your stay!
The hotel also features multiple gardens including a lush private park for relaxation purposes; as well as an outdoor dining area for all food enthusiasts searching for al fresco cuisine!
Lastly, their passionate chef Jesus 'JB' Babaran serves up exquisite culinary creations at Tonight + Tomorrow restaurant – giving visitors a taste of authentic Houston flavors in an elevated setting.
La Colombe d'Or continues to be one of the most expensive hotels in Houston with its cutting-edge design, premier amenities, and unparalleled service – making it the perfect destination for travelers who want something extra special while visiting this iconic city.
5. The Houstonian Hotel, Club & Spa
The Houstonian Hotel is the proud recipient of Travel + Leisure's World's Best Award 2021 and was crowned the No.1 Resort Hotel in Texas.
Located just 2.5 miles from Memorial Park, this luxurious 27-acre property has everything a traveler needs for an unforgettable stay with no resort fees!
The renovations have made it even more beautiful: revamped guestrooms and suites equipped with modern amenities, meandering pools, and outdoor spaces to relax in after exploring Houston's attractions, two legendary restaurants serving delicious cuisine for all tastes, as well as complimentary access to the exclusive Houstonian Club.
What makes this hotel special is that at one point it used to be the home of President George H.W. Bush!
With top-notch spa treatments offered both onsite and offsite (free transportation provided by the hotel), and tasteful décor that reflects the best of what Houston stands for – strength, beauty, and hospitality – this luxury destination is one of the most expensive hotels you can stay at during your visit to Houston.
6. Hotel Granduca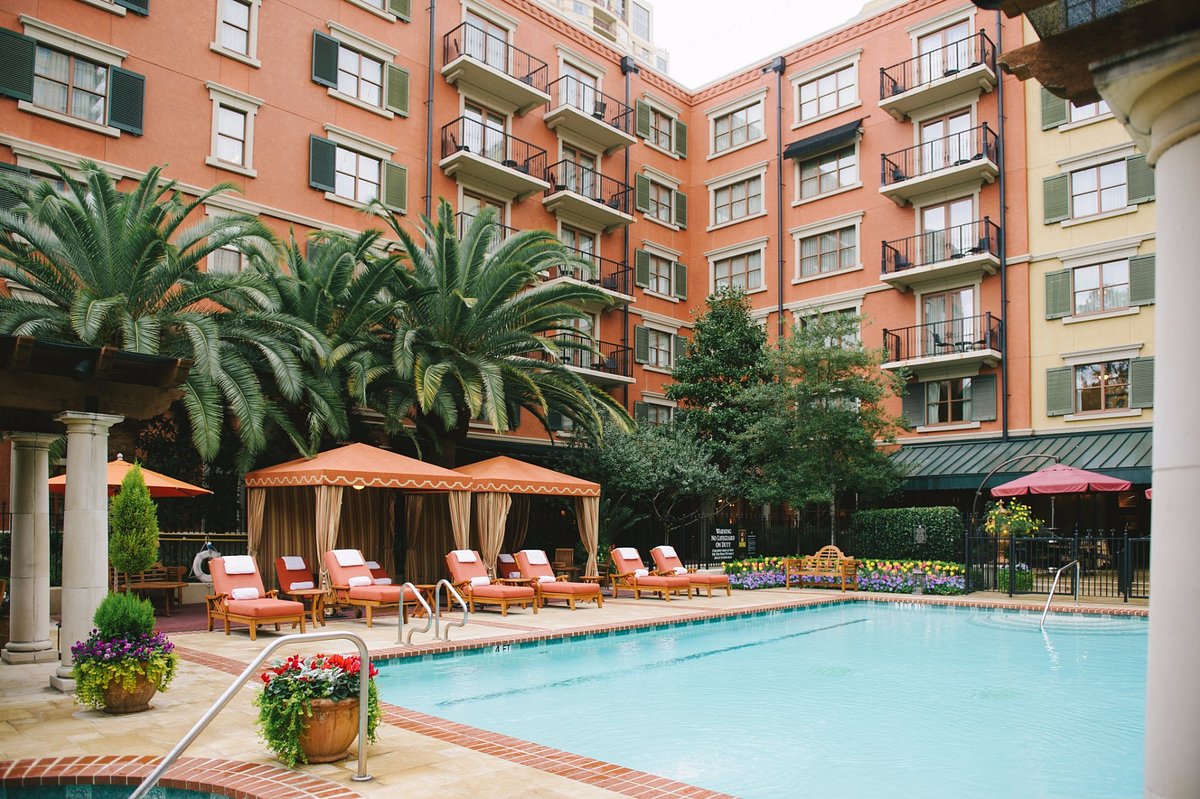 Experience the lap of luxury at Hotel Granduca Houston, one of the city's most exclusive and expensive hotels.
This boutique hotel offers 122 residence-style rooms and suites designed to exude Italian sophistication with modern personalized amenities that make for a luxurious escape.
Guests can savor award-winning fine dining in the hotel's upscale restaurant, enjoy al fresco casual dining at Il Giardino, or host an elegant event in its grand ballroom, Salone Rialto.
For business needs, there are three state-of-the-art executive boardrooms; while leisure seekers can take advantage of its inviting pool and fitness center on the veranda.
To access even more luxe shopping experiences, complimentary car service is available to The Galleria and River Oaks Shopping Center in the hotel's own Maserati vehicle.
Whether it's designer boutiques or high fashion luxury items you're after – these Houston hot spots are just minutes from Hotel Granduca – an exquisite destination for any traveler looking to indulge in an opulent getaway experience.
7. JW Marriott Houston Downtown
The JW Marriott Houston Downtown is an experiential luxury hotel located in the city's bustling center, truly making it the Heart of Houston.
With 328 stunning guestrooms and suites styled with contemporary décor, the JW Marriott offers guests a high-end experience like no other.
From a relaxing atmosphere provided by their spa concept featuring treatments that are designed to renew, calm, invigorate, and indulge – to indulging in delectable cuisine crafted from local ingredients at Main Kitchen Restaurant – there's something for everyone at this exquisite establishment.
As one of the most expensive hotels in Houston, travelers should expect nothing less than five-star service no matter where they turn during their stay.
8. Marriott Marquis Houston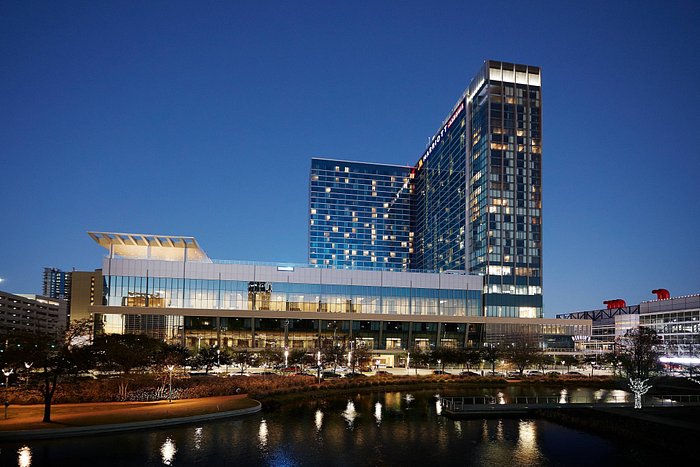 Experience the luxurious feel of downtown Houston with a stay at Marriott Marquis Houston.
A destination unlike any other, this iconic hotel offers unparalleled amenities and services to every guest that chooses to stay here.
Take in breathtaking city and park views right from the comfort of your spacious room or suite.
Enjoy relaxing dips in either the infinity pool or if you're feeling adventurous, take on the world's largest Texas-shaped rooftop lazy river.
Experience exceptional service all while taking advantage of convenience to all major attractions as it is located directly connected by skywalk to the George R. Brown Convention Center.
With its combination of top-notch luxury and modern style, Marriott Marquis Houston is one of the most expensive hotels in Houston for travelers looking for an enjoyable and comfortable stay!
9. The Westin at The Woodlands
The Westin At The Woodlands is a luxurious haven located in The Woodlands, deftly combining the ultimate in pampering with convenience.
If you're looking to indulge while on holiday, guests can enjoy indulgent massages and fine Italian cuisine served at Sorriso Modern Italian Ki – open for breakfast, lunch, and dinner – right within their accommodation.
Further enhanced by an outdoor pool that boasts a sunny poolside bar and a 24-hour fitness center stocked with all of the latest exercise equipment, the hotel is well-noted among fellow travelers for its comfortable beds and friendly staff members that are always willing to help.
As one of the most expensive hotels in Houston, it's no surprise why so many flocks to this coveted destination when they're seeking lavish accommodations.
10. Hyatt Regency Houston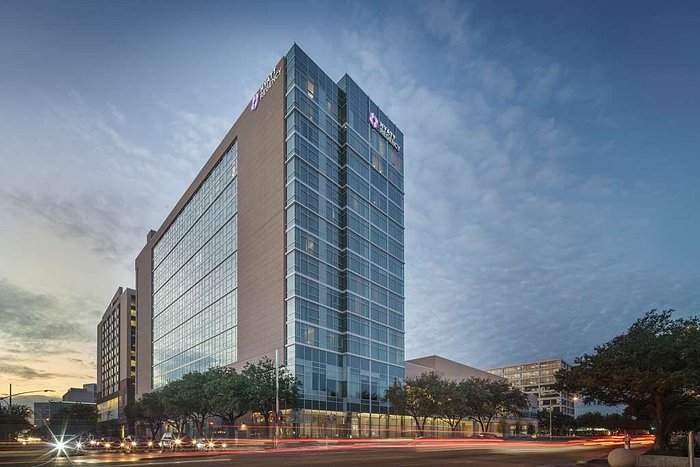 The newly renovated Hyatt Regency Houston provides an unparalleled experience for travelers in the bustling downtown area.
Situated near a variety of restaurants and services connected through the city's famous seven-mile tunnel system, the hotel is conveniently located just moments away from various cultural attractions and sporting events.
Sports fans can take advantage of nearby stadiums such as Minute Maid Park, home to Astros baseball games, or Toyota Center where Rockets basketball games are held.
Visitors can also enjoy theatrical productions at Downtown's world-famous Theater District or explore the shops along Main Street.
For a quick journey to other highly sought-after locations, guests have access to Houston's METRO Light Rail with multiple stops within seconds of their accommodations.
Back at the hotel guests will find spacious rooms with outstanding amenities and stunning views of downtown sure to satisfy any vacationer looking to escape reality for a bit.
With only luxury amenities provided throughout their stay travelers are certain to check off all items on their wish list making it one of the top most expensive hotels in Houston with no doubt why it should be chosen for lodging during your next visit.