Fishing is a very old tradition and has been practiced for thousands of years.
From the very beginning, humans have been in search of food, and fish have always been an important source of food.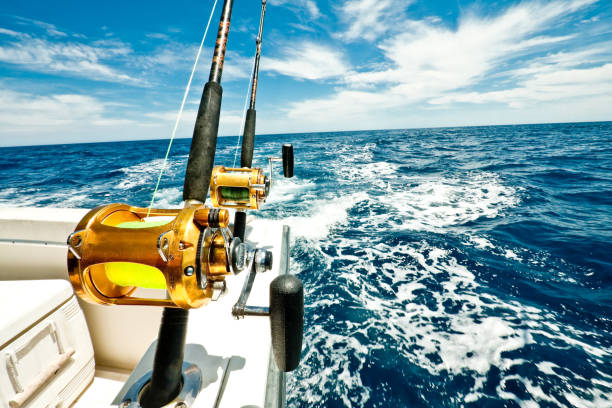 Fishing methods vary but most commonly involve the use of a fishing rod or fishing reel to catch the fish.
Fishing rods are usually made of fiberglass, carbon fiber, or, classically, bamboo.
Fishing reels are designed to hold the fishing line as it is cast out into the water and allow for the line to be retrieved when a fish is caught.
The earliest fishing reels were invented in China around 1195 AD but were only used as decoration on fishing rods.
Later, in Europe around 1650 or 1720 AD, reels became popular with fishermen for their ability to hold more fishing lines than spools wound by hand.
Fishers require different types of reels for saltwater, freshwater, and fly fishing.
There are a variety of reels available on the market at various prices.
In this post, we will go over the best and most expensive fishing reels in detail.
Top 10 Most Expensive Fishing Reels
Fishing reels come in all shapes and sizes, with different features and capabilities.
They can range from a few dollars to several thousand dollars.
The prices are determined by the quality and durability of the reel, but also by how popular the brand is.
Some of the most expensive reels are made by companies that have been making them for generations and have perfected their craft over many years.
This makes their products more reliable and of higher quality than other reels on the market.
The best part about these expensive fishing reels is that they're not just for professionals or serious anglers, anybody can use them!
10. Tibor Billy Pate Fly Reel – $595+
The Tibor Billy Pate Fly Reel is one of the most legendary high-end fly reels ever made.
This reel was designed by Billy Pate, a world-renowned saltwater guide who spent years testing this design in the tough fishing conditions of the Florida Keys.
The Tibor Billy Pate features a one-piece frame made out of aircraft-grade aluminum and has a quick-release spool that can be accessed with just two turns of the locking nut.
It also includes an integrated handle, a large arbor for fast line retrieval, and a unique drag system that allows for smooth adjustment without any start-up inertia.
It is also salt waterproof for those who like to fish in saltwater environments.
Even though this reel is expensive, it does live up to its reputation of being one of the best fly fishing reels out there.
It comes with a lifetime warranty, which makes it even more appealing to some fishermen who want expensive but high-quality products.
9. Penn Retrieve Rate Ambidextrous Torque II Spinning 7500 Reel – $749+
The Penn Torque II Spinning 7500 Reel is intended for anglers who are particular about their fishing reels.
It's one of the most well-known and top-rated spinning reels available.
The product is perfect for deep-sea fishing enthusiasts and those who want to catch a larger fish, including yellowfin tuna and swordfish.
The Penn Torque II Spinning 7500 reel is constructed of stainless steel, making it the perfect choice for saltwater anglers.
It's also made with a watertight design that keeps the reel from being damaged by saltwater.
You won't have to worry about the reel getting corroded or breaking down after you take it out on the water several times.
This reel features seven sealed stainless steel ball bearings that are corrosion-resistant.
It also has an instant anti-reverse bearing that allows you to get more power when you're reeling in your catch.
The powerful spool includes a line capacity ring, which tells you how much fishing line is on your spool at any given time so that you don't run out at an inopportune moment.
8. Shimano Talica 25 II Speed Lever drag Multiplier Trolling Fishing Reel – $600+
The Shimano Talica 25 II Speed Lever drag Multiplier Trolling Fishing Reel is the smaller version of the Shimano Talica 50 II and is available as a two-speed version, as well as a single-speed version.
This reel has been designed for use in both fresh and saltwater.
This reel has an extremely high line capacity, with a maximum capacity of 500 yards of 30lb braid, which is about the maximum that any angler would need.
The retrieve ratio is 4.3:1 or 2.2:1, depending on the speed that you choose.
The reel also has a large handle which is designed to help you retrieve more lines in less time.
Shimano has also improved this newly designed handle by adding rubber grips to it, which means that it will not slip out of your hand when you are trying to catch a big fish.
7. Tibor Signature 7-8 Fly Reel – $795+
The Tibor Signature is a lightweight reel that is built to withstand the toughest of conditions.
The sealed drag system on this reel will prevent any water or sand from entering the drag and causing it to stick, which would be catastrophic in most fishing situations.
When you have a large fish on the line, having a reliable drag is one of the most important things you need in a reel.
This fly fishing reel comes in three different colors: platinum, gold, and black.
The platinum and gold are by far the best-looking reels on this list and make quite a statement when attached to your favorite fly rod.
If you're looking for more of an understated look then the black will be perfect for you.
6. EatMyTackle Saltwater Fishing Reel | Blue Marlin Tournament Edition – $400+
The EatMyTackle Saltwater Fishing Reel is a top-rated fishing reel that has been proven to work well in saltwater.
It is extremely durable and reliable, so you can expect it to last you for years to come.
The EatMyTackle Saltwater Fishing Reel comes equipped with the anodized aluminum spool, which is lightweight, but still exceptionally strong and durable.
This spool helps ensure the durability of this reel. In addition, the EatMyTackle fishing reel features a large oversized handle, which allows you to easily turn the handle and crank in your catch.
This oversized handle is also easy to grip, so you can fish for hours without getting a blister or callus on your hand.
In addition to being durable, this reel also features nine ball bearings that help reduce friction and increase the smoothness of reeling in your catch.
The EatMyTackle Saltwater Fishing Reel also has a line capacity indicator, which allows you to see how many lines you have left at any given moment.
5. Daiwa SALTIGA5000H Saltwater Spinning Fishing Reel – between $800+
If you're looking for a fishing reel that can take abuse and still perform, the Daiwa SALTIGA 5000H Spinning Fishing Reel is the one for you.
The line roller is made of stainless steel to resist corrosion and it puts less stress on your line.
It's equipped with a drag washer that is waterproof so you won't have to worry about it getting wet.
The drag knob is sealed so dirt and debris won't get in and mess up the gears.
The reel has eight corrosion-resistant ball bearings, one roller bearing, and a gear ratio of 4.9:1.
It's made from an aluminum frame, side plate, and rotor for strength and durability.
The handle is made from machined aluminum and folds out of the way when not in use.
The reel weighs 20 ounces with a line capacity of 15/460, 17/310, 20/240, which makes it lighter than most reels its size.
But don't let that fool you; it has plenty of power to handle big fish!
4. Shimano Stella SW STL18000SWBHG Spinning Fishing Reel – between $1100+
There are many reels on the market but none of them come close to the smoothness and power of this reel.
The 14 bearings on this reel all have an anti-rust treatment which means you can use them in saltwater without any worries.
It is a spinning reel which means it doesn't require just a back and forth motion to cast, there is no handle.
Instead, the line comes off the side of the reel and you wind the handle around to make a cast.
It comes in several different sizes and they are all capable of handling massive fish with ease.
If you want to be able to catch anything from small panfish to giant tuna this is the reel for you!
3. Shimano Force Master 9000 Electric Fishing Reel – $ 1,799+
The Shimano Force Master Electric Fishing Reel is the most powerful electric reel in the world.
This high-tech beast can crank fish in at a rate of 400 feet per minute and has the force to stop a 600-pound shark in its tracks.
The Shimano Force Master Electric Fishing Reel features a built-in LED screen with information about distance, water temperature, wind direction, and other important fishing data.
The reel can be controlled from the handle or through an app on your smartphone or tablet.
While the app is only available for Android devices, you can control it from your iPhone or iPad via Bluetooth.
You will be able to catch big fish with ease thanks to this reel's advanced technology.
The Shimano Force Master Electric Fishing Reel is one of a kind and will change the way you fish forever!
2. Daiwa Dendoh Marine Power Assist Reel – $3,280+
The Daiwa Dendoh Marine Power Assist Reel is a great choice for anglers looking to reel in a big catch.
This popular option can handle fish up to 300 pounds and is designed for deep-sea fishing.
It's made with high-quality materials and has an ergonomic design that makes it easy and comfortable to use for long periods.
The Daiwa Dendoh is also dependable, so you know that it won't fail when you need it the most.
Still, this is an expensive fishing reel, so it might be out of reach for some anglers.
This fishing reel has a body made of aluminum and graphite, which makes it lightweight and durable.
The spool is made of aluminum, which adds strength while also remaining lightweight.
This allows you to cast quickly and smoothly without straining your wrist or arm. Plus, the graphite frame will hold up well in saltwater or freshwater conditions.
Another benefit of this fishing reel's materials is that they are corrosion resistant, which protects the reel from rusting or degrading due to exposure to saltwater.
1. The Holy Grail fishing reel – $58000
The Holy Grail reel is the preferred choice for professional big-game anglers.
Its legendary performance is due to its supremely smooth operation, lightweight construction, and unmatched power.
The Holy Grail reel has a proprietary CNC machined frame, spool, and side plates engineered from the lightest weight, strongest aluminum stock available.
A powerful lever drag system with adjustable pre-set and strike stop delivers a wide range of drag settings to handle any fishing situation.
The Holy Grail also features a new ergonomic handle design with an oversized knob for comfort and control.
A sealed carbon fiber/stainless steel drag system with Cal's Universal Drag Grease ensures the smoothest drag under the most extreme conditions.
To ensure total corrosion resistance both inside and out, the entire reel is protected with our exclusive Teflon Shield coating process.