Brandy is an alcoholic beverage that has been around for many centuries and was popular with early American colonists living in the Upper Midwest.
However, today it is not as widely consumed as other liquors like vodka or whiskey. Although Brandy does not have a high demand among thirsty drinkers, certain groups still enjoy it for its unique taste.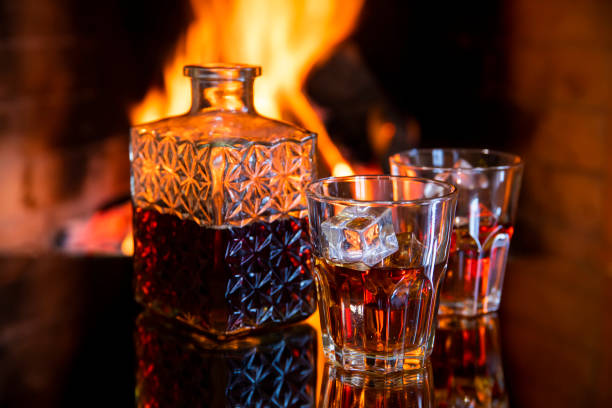 Mixologists often overlook this drink when creating new cocktails, but there are signs that this may be changing.
In 1982, the first distillery to produce brandy in America since Prohibition opened, prompting more than 500 distilleries to start producing the beverage by 2010.
There are also expensive varieties of Brandy such as Cognac and Calvados which originate from Europe.
This means that although Brandy may not be as fashionable now compared to other drinks – it still remains an important part of history!
Most Expensive Brandy and Cognacs
Louis XIII Black Pearl
Remy Martin recently released a special edition of their famous brandy, Louis XIII Black Pearl.
This bottle is unlike any other and stands out with its metallic, pearlescent appearance and the signature fleur de Lys symbol embossed in the glass.
Of course, it isn't just the design that makes this brandy unique – only 775 of these crystal decanters exist worldwide.
That's why they are so expensive! A single 750 mL bottle will cost you around $30,000!
Because of how valuable this drink is, it should be enjoyed neat or without ice at room temperature to savor every sip of this luxurious liquor that marks Remy Martin's 140th birthday.
Henri IV Dudognon Heritage Cognac Grande Champagne
The Henri IV Dudognon Heritage Cognac Grande Champagne is a very special kind of brandy.
It's made from liquor that's been distilled for 100 years, and it comes in a very luxurious bottle.
The outside is covered in 24-carat gold, platinum, and 6,000 diamonds!
That makes this the most expensive bottle of brandy ever made – it costs more than one million two hundred thousand dollars!
It's as rare and precious as a Black Pearl – which is why people are willing to pay so much for it.
Cave de l'Hotel de Paris Grande Champagne Cognac
Cave de l'Hotel de Paris Grande Champagne Cognac is a truly exceptional French cognac that is worth every penny of its steep price tag.
These exquisitely crafted bottles of brandy are made from the best grapes in France and have been aged in oak barrels to give them a deep, complex flavor.
This luxury spirit was originally created as an indulgent treat for guests at an iconic 19th-century French hotel and has endured for over two centuries – some bottles even reaching prices as high as $25,000!
Cave de l'Hotel de Paris Grande Champagne Cognac promises both the sophisticated flavor sought after by connoisseurs and the unique opportunity to travel back in time with each sip.
Lecompte Secret Calvados, France
The abandoned Lecompte distillery recently unearthed a remarkable surprise: an untouched batch of brandy that had been fermenting for 85 years!
This eaux-de-vie, distilled in the early 1920s, was blended to create a luxurious calvados brandy.
Unlike other types of brandy such as cognac and grappa that are made with grapes, calvados is crafted from apples.
The resulting beverage has a complex palate comprised of caramel and coffee flavors complemented by tart apple notes and subtle hints of candied fruits.
If you're looking for an exceptional drinking experience, you won't go wrong with this exquisite bottle costing around $3000.
Croizet Cognac Leonie 1858
Croizet Cognac, founded in 1805, is renowned for being one of the oldest producers of cognac in the world.
Distinct from other distilleries that blend different grape generations to cover up a poor harvest, Croizet's single vintage approach means if it experiences an unfavorable year for grapes, there will be no cognac at all from that season.
A bottle of its prestigious Leonie 1858 Cognac can cost anywhere from $150,000 to own.
This expensive treatment is only available by bottle purchase….except for InterContinental Hong Kong.
Here guests can purchase one shot-glass worth of this exclusive spirit for around $9,000; earning it a Guinness World Record as 'the Most Expensive Shot of Cognac'.
Hardy L'Ete Lalique Cognac Grande Champagne
The vintage Hardy L'Ete Lalique Cognac Grande Champagne is a blend of six, century-old cognacs that deliver on a promise from the early 20th century.
Its creator was a third-generation member of the British-founded Hardy cognac house in 1919 and 1940.
This special cognac features flavors like apricot, cinnamon, and honey – all combined together to make an exquisite drink.
It stands out even more due to its one-of-a-kind crystal decanter, which is crowned with an elegant rainbow sculpture covered with grape vines!
There are only about 400 bottles existing in the world and each bottle costs $8500!
Hennessy Beaute du Siecle Cognac
Hennessey is a brand of cognac that has become wildly popular in the United States. Not long ago, rap stars began talking about Hennessy and enjoying it as their drink of choice.
The Hennessy Beaute du Siecle Cognac stands out from the rest with its exciting spicy, robust flavor and extravagant presentation.
A special treasure chest holds this unique bottle along with four beautiful glasses for sharing this rare eau-de-vie, only one hundred bottles have been made available to purchase at an extraordinary price of $195,000!
HINE 250 Years Decanter 1953 Cognac
The HINE 250 Years Decanter 1953 Cognac is a special vintage of cognac that has been aged for a very long time.
Its special flavor has made it beloved by experts and connoisseurs alike!
When you take a sip, you will taste notes of leather, orange, honey, figs, acacia, and even tobacco – as if you could imagine each flavor in your mouth separately!
With an amazing spicy undertone and long finish, this exquisite brandy lives up to its nearly $12,000 price tag.
It was designed by the best crystal makers in the world – Baccarat – and they chose an understated bottle reminiscent of a multifaceted diamond.
1953 was a drier year than most in the 20th century so the fruit needed more time to age – but slow and steady wins the race!
Hardy Privilege Caryota Lalique Cognac Grande Champagne
The Hardy Privilege Caryota Lalique Cognac Grande Champagne is an exquisite bottle of cognac from the Hardy house.
The fruits used to make this special cognac come from a region in France and were all picked before 1914.
The color of this cognac is a deep, mahogany amber which is much darker than the paler amber of another cognac.
A strong woodsy aroma will greet your nose with notes of cedar and you'll taste delicious flavors like nutmeg, black pepper, cherries, and plums when you take a sip.
A single bottle costs almost $8,000!
Hennessy Timeless Cognac
Hennessy Timeless is a special bottle of cognac created by the renowned Hennessy family.
The blending process involves 11 eaux-de-vie, which are drinks made from distilling wine, that has been carefully chosen to create this unique beverage.
These special liquors all come from their Grandes Reserves – an impressive collection owned by Hennessy with some drinks being over a century old!
Their cellar masters taste and supervise the aging process so that all elements of Timeless are perfect.
This luxurious liquor in its beautiful bottle costs about $10,000 for you to experience its elite history!
Most Expensive Brandy and Cognacs
Louis XIII Black Pearl
Henri IV Dudognon Heritage Cognac Grande Champagne
Cave de l'Hotel de Paris Grande Champagne Cognac
Lecompte Secret Calvados, France
Croizet Cognac Leonie 1858
Hardy L'Ete Lalique Cognac Grande Champagne
Hennessy Beaute du Siecle Cognac
HINE 250 Years Decanter 1953 Cognac
Hardy Privilege Caryota Lalique Cognac Grande Champagne
Hennessy Timeless Cognac