Audi cars are some of the most stylish and sophisticated vehicles on the road today. With their sleek lines and luxurious interiors, Audi cars always turn heads. But style is just one aspect of what makes these cars so great.
They also offer outstanding performance, thanks to their powerful engines and Quattro all-wheel drive system. In addition, Audi cars are known for their excellent build quality, making them one of the most reliable brands on the market.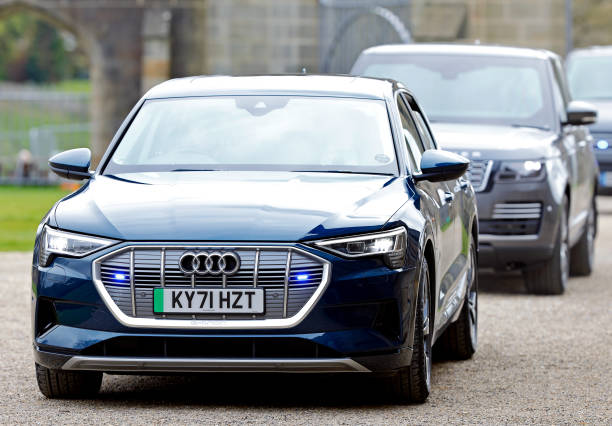 Audi cars are among the most luxurious and expensive cars on the market. There are many reasons for this, including the high quality of materials used, the sophisticated engineering and technology that goes into each car, and the fact that Audi is a premier name in the automotive industry.
When you buy an Audi, you are paying for a vehicle that has been designed and built to exacting standards. You can be confident that your car will be reliable and offer a smooth ride.
Audi cars retain their value well, so you can expect to get a good return on your investment if you decide to sell in the future. For those of you who are looking for a status symbol or simply want to enjoy the best that the automotive world has to offer, an Audi car is sure to meet your needs.
What Is the Most Expensive Audi?
The 2022 Audi R8 Spyder V10 Performance RWD is the most expensive Audi car on the market, with an MSRP of $160,000. However, customization options can quickly push the final sale price above $200,000. This sporty and speedy car is sure to turn heads with its impressive performance and luxury features.
What Are the Most Expensive Audi Models?
1. Audi R8 Spyder — Price Starts at $160,000
The Audi R8 Spyder is one of the most expensive car models, starting at over $160,000. It's a convertible sports car with a sleek design and powerful engine that makes it a dream car for many.
The R8 Spyder comes standard with features like All-Wheel Drive, LED headlights, and a Bang & Olufsen sound system. It's also available with an optional V10 Plus engine that gives it even more power.
Despite its high price tag, the R8 Spyder is a popular choice for luxury car buyers looking for style, performance, and prestige.
2. Audi R8 — Price Starts at $148,500
The Audi R8 is one of the most expensive Audi models available on the market right now. It is a high-performance vehicle that has a starting price of over $145,000. The R8 is available in both coupe and convertible body styles.
It is powered by a V10 engine that produces 602 horsepower. The R8 can accelerate from 0 to 60 mph in 3.1 seconds. It has a top speed of 199 mph. The R8 comes standard with features such as all-wheel drive, heated front seats, and 19-inch wheels.
Optionally, it can be equipped with features such as carbon fiber interior trim and 20-inch wheels. The Audi R8 is a great choice for anyone who is looking for a luxurious and high-performance vehicle.
3. Audi RS7 — Price Starts at $119,000
The Audi RS7 is a performance-oriented hatchback that combines aggressive styling with a powerful engine and nimble handling. It's one of the hottest hatches on the planet, thanks to its 591-hp V-8 engine and lively handling.
The RS7 is also one of the most expensive hatches, with a starting price of $104,900. But it's worth every penny, thanks to its impressive performance and luxury features.
The RS7 is a true wolf in sheep's clothing, and it's sure to turn heads whether you're driving it on the street or the track.
4. Audi RS6 Avant — Price Starts at $117,595
The Audi RS6 Avant is one of the most alluring family cars on the market. It combines supercar performance and handsome styling with station wagon practicality.
Under the hood, the RS6 features a twin-turbocharged V8 engine that produces an impressive 591 horsepower. This allows the car to accelerate from 0 to 60 mph in just 3.5 seconds.
The RS6 also features Quattro all-wheel drive, which provides excellent traction and handling in all weather conditions. Inside, the RS6 is appointed with high-quality materials and features a spacious interior that can comfortably seat five adults.
The rear seats can also be folded down to provide additional storage space for luggage or sports equipment. With its combination of performance, luxury, and utility, the Audi RS6 Avant is sure to please even the most discerning drivers.
5. Audi S8 — Price Starts at $116,000
For drivers who want the best of both worlds, the Audi S8 is the perfect car. It's a quick and playful sports sedan that's also large and comfortable, making it ideal for both long drives and quick jaunts around town.
The powerful engine ensures that you'll always have plenty of power at your fingertips, while the spacious interior means that there's plenty of room for passengers and luggage.
And with features like heated seats and a premium sound system, the S8 provides all the creature comforts you could ever want. Whether you're looking for speed or comfort, the Audi S8 has it all.
---
Related: The 12 Most Expensive BMW Cars Ever Made
---
6. Audi e-Tron GT — Price Starts at $106,395
The Audi e-Tron GT is a sleek and stylish electric car with a sporty attitude. Built on the same platform as the Porsche Taycan, it shares many of the same features, including all-wheel drive, regenerative braking, and an advanced battery management system.
However, the e-Tron GT falls short in one important area: driving range. With a maximum range of just over 200 miles, it falls well below average for electric cars.
As a result, drivers will need to be careful to plan their trips carefully and may find themselves running out of juice before they reach their destination. Despite its shortcomings, the e-Tron GT is still a stylish and fun-to-drive electric car that will turn heads on the road.
7. Audi SQ8 — Price Starts at $94,695
The Audi SQ8 is a high-performance SUV that shares many of its parts with the Lamborghini Urus. Both vehicles have a twin-turbocharged V-8 engine and a chassis that is based on the Audi Q7.
However, the SQ8 is not simply a less expensive version of the Urus. It has its own unique style and performance capabilities that set it apart from its Italian cousin.
For instance, the SQ8 has a more aggressive body kit and a sportier suspension setup. It also comes standard with Quattro all-wheel drive, which is an optional extra on the Urus. In terms of performance, the SQ8 can accelerate from 0-60 mph in 4.3 seconds, which is 0.4 seconds slower than the Urus.
However, the SQ8 has a top speed of 155 mph, while the Urus is limited to 130 mph. So while the SQ8 may not be a true Lamborghini, it is still a very capable and stylish SUV in its own right.
---
Related: The 13 Most Expensive Jeep Cars in the Market
---
8. Audi SQ7 — Price Starts at $90,290
SUVs have come a long way since their humble beginnings as off-road vehicles designed for utility and practicality. Today's SUVs are luxurious, powerful, and sleek, but they haven't forgotten their roots.
The Audi SQ7 is the perfect example of this evolution. Under the hood, the SQ7 boasts a V-8 engine that delivers thrilling acceleration, while inside the cabin, passengers are treated to an abundance of creature comforts.
But despite its performance credentials, the SQ7 is still a three-row SUV that can comfortably accommodate families or groups of friends. With its combination of luxury and practicality, the Audi SQ7 is the perfect vehicle for those who want the best of both worlds.
9. Audi A8 — Price Starts at $85,000
The Audi A8 is a large luxury sedan that offers plenty of space, comfort, and features. However, it has a more restrained design than some of its competitors. This approach gives the A8 a more elegant look that is sure to please discerning buyers.
The interior of the A8 is just as luxurious as the exterior, with plenty of high-end materials and amenities. The car is also well-equipped, with standard features that include heated seats, navigation, and a premium sound system.
Moreover, the A8 comes with a variety of powerful engine options that should satisfy even the most demanding drivers. All in all, the Audi A8 is a great choice for anyone looking for a sophisticated and refined luxury sedan.
---
Related: Why Are Rental Cars So Expensive?
---
10. Audi A6 e-Tron — Price Starts at $80,000
Audi is on a mission to electrify its lineup, and the A6 e-Tron sedan is the latest example. This all-electric vehicle is aimed squarely at the Tesla Model S, offering a competitive range, plenty of luxury features, and a stylish design.
The A6 e-Tron has a range of up to 322 miles on a single charge, which is comparable to the Model S. It also comes standard with features like adaptive cruise control, lane keeping assist, and a 360-degree camera system.
Inside, the A6 e-Tron features high-quality materials and plenty of tech goodies, including a 12.3-inch infotainment display and an optional head-up display. With its combination of range, luxury, and technology, the A6 e-Tron is poised to give the Model S a run for its money.
11. Audi RS5 Sportback — Price Starts at $77,295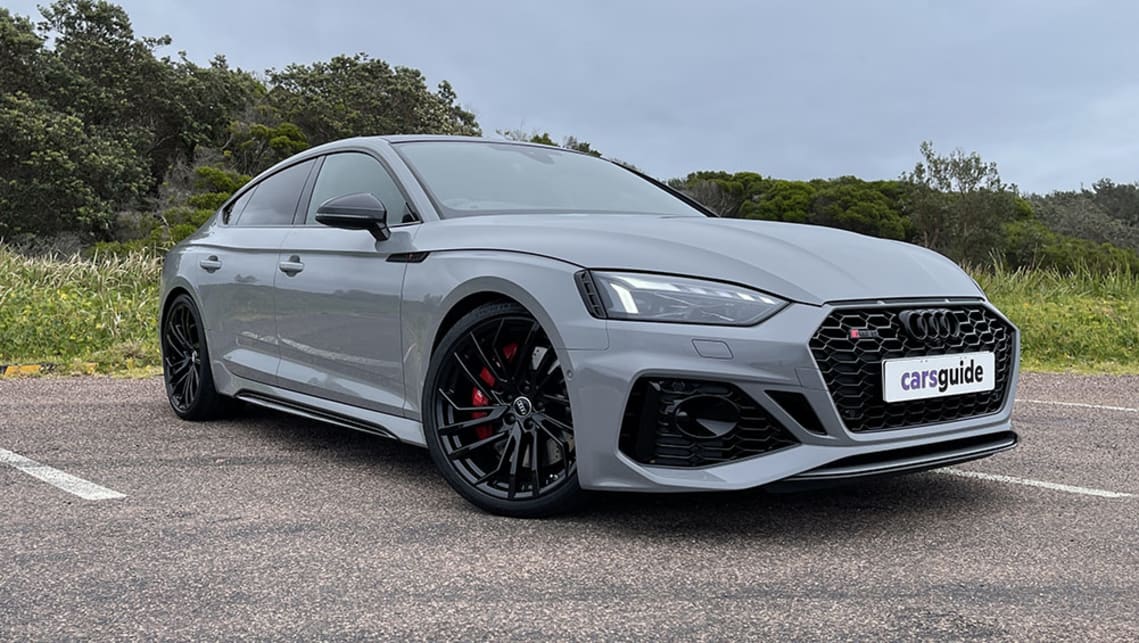 The Audi RS5 Sportback is a four-door coupe that combines the best of both worlds. It has the look of a trackable four-door with its low stance and wide fenders, but it also has a subdued exhaust and comfy ride that make it better for everyday driving.
The RS5 is powered by a twin-turbo 4.0-liter V-6 that produces 444 hp and 442 lb-ft of torque. That's enough power to propel the car from 0 to 60 mph in 3.8 seconds and on to a top speed of 155 mph. The engine is mated to an eight-speed automatic transmission and all-wheel drive.
The RS5 also comes with adaptive dampers, which can be set to three different modes: comfort, auto, and dynamic. In comfort mode, the ride is smooth and compliant, making it ideal for everyday driving.
In dynamic mode, the dampers firm up and the exhaust gets louder, making the RS5 more fun to drive on the track. The RS5 Sportback is a great all-around car that will satisfy both your need for speed and your need for comfort.
12. Audi RS5 — Price Starts at $75,900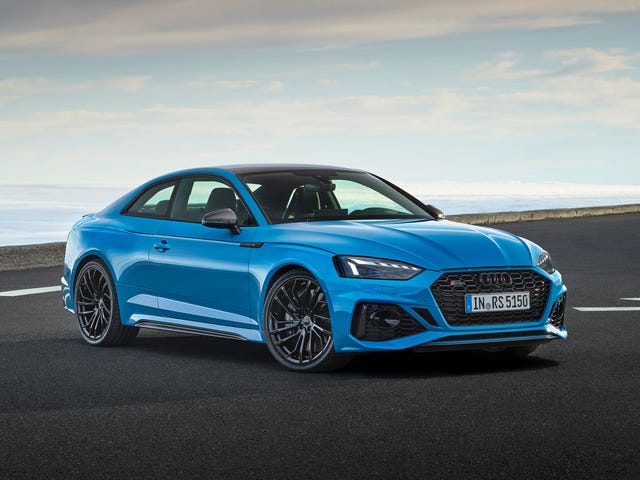 The Audi RS5 is a work of automotive art. It's got the aesthetic appeal of a high-end luxury car, with sleek lines and a graceful design. But beneath its pretty exterior lies the heart of the pure performance.
The twin-turbocharged V6 engine produces an exhilarating 444 horsepower, and when paired with the Quattro all-wheel drive system, it helps the RS5 sprint from 0 to 60 mph in just 3.7 seconds.
But the RS5 isn't just about straight-line speed; it's also incredibly agile, thanks to its lightweight chassis and Dynamic Ride Control suspension.
Whether carve up your favorite backroad or simply cruising down the highway, the RS5 is always ready to deliver an unforgettable driving experience.