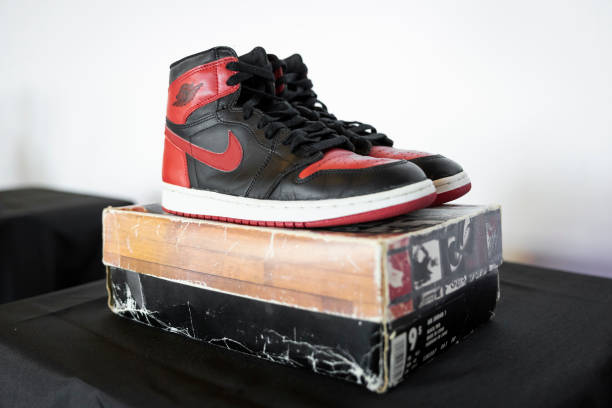 Nike produced one of the most popular lines of footwear in history, inspired by basketball great Michael Jordan. The Nike Air Jordans.
Since the initial collection hit the shelves of sports retailers in 1985, these sneakers have become a sports shoe classic.
Jordans have evolved from being simply another pair of sneakers to a symbol for many fans and even non-fans of the famous athlete.
Without realizing it, Nike and its sneakers have forever altered the sneaker business, as well as the way people see basketball today.
While for some, Air Jordans are just another – and costly – pair of sneakers, for others, they represent a memento of Michael Jordan's unforgettable moments on the court.
---
Related: The 10 Most Expensive New Balance Shoes
---
Beyond the fashion icon and what they represent to the most ardent Jordan fans, the sneakers have grown to become one of the best-selling and most expensive footwear on the market.
The brand has transcended other industry titans such as Reebok, Adidas, and Converse and continues to thrive today.
Many of these well-known sneakers now act similarly to those pricey ancient autos. They become more expensive and in demand as they age.
And believe us when we say that there are a lot of individuals who desire to own a historic pair of Air Jordans.
They're willing to pay tens of thousands of dollars for them.
Speaking of the price, let's find out which are the top 10 most expensive Air Jordans:
10. Air Jordan Silver Shoe ( Autographed ) – $60,000
The Air Jordan Silver shoe is composed entirely of pure silver. On eBay, a seller titled 'eaglesbyfly' sold a 10-pound replica of the initial signature shoe model. It sold for $60,000 and was well worth the money.
M.J.'s wife gave him the original Silver Shoe sneaker for his 32nd birthday. She hired a jeweler to create a sterling silver mold for the shoe. The one for sale on eBay was one of just 10 Air Jordan Silver Shoes ever produced.
Other copies of the sneaker may be found at Jordan's restaurant, the Chicago Science Museum, and a golf club where Jordan formerly played. MCI rented one for a phone advertisement.
---
Related: The 10 Most Expensive Crocs in The Market
---
9. Air Jordan 12 OVO – $100,000
This Air Jordan has the same history as the Air Jordan OVO, however unlike its predecessor, the Air Jordan 12 OVO was made available to the public.
It's essentially a knockoff of rapper Drake's pair. It's mostly white with stingray and tumbled leather accents.
It features two top eyelets and a touch of gold on the side. Its sole is transparent, allowing the OVO insignia to stand out.
The $100,000 pair was apparently handed to a female enthusiast, who quickly put it up for sale… Let's speak about simple money.
8. Air Jordan 10 OVO ( Drake Collection ) – $100,000
During Drake Night during a Toronto Raptors game in 2014, Canadian rapper Drake handed away two pairs of unreleased Air Jordan 10 OVO samples from his collection.
The very limited edition sneakers were handed to Drake and his close circle as a thank you for Drake's association with Jordan Brand.
The two fans were extremely fortunate since they not only obtained extremely rare and unreleased sneakers, but they also obtained sneakers belonging to Drake himself.
These admirers, predictably, sold them on eBay. After 154 bids in one week, the white pair received up to $20,000, while the black pair received $100,000.
7. Air Jordan 12 (Flu Game) – $104,000
The Air Jordan 12 Flu Game, which is the 7th on our list of the most expensive Air Jordan sneakers, has a fascinating past.
In the 1997 NBA Finals, the Chicago Bulls were knotted at 2-2 with the Utah Jazz. The Utah Jazz had won their previous two games in a row.
To make matters worse for the Bulls, MJ was suffering from flu-like symptoms and couldn't play as well as he should.
Jordan, on the other hand, led the team to win by scoring 15 points in the fourth quarter.
The sneakers are essentially a black and red premium leather variant of the original. It is the undisputed monarch of all Air Jordans, with Brand Jordan releasing two retros.
It's no surprise it went for $140,000. When you buy shoes like this, you're buying memories as much as a product.
---
Related: The 10 Most Expensive Nike Shoes
---
6. Air Jordan 1 – $560,000
This pair of Air Jordans, worn by Michael Jordan himself during a Chicago Bulls game, was auctioned and sold by Sotheby's in 2020 for a whopping $560,000, smashing all prior records.
This pair of Jordans was designed by Peter Moore and comes in the famous Chicago red hue, making it one of the most identifiable pairs of Air Jordans ever.
The auction garnered bids from all across the world and ended at a considerably greater price than anybody had predicted.
5. Air Jordan 1 Chicago Shattered Backboard – $610,000
Although the 2015 Air Jordan 1 Shattered Backboard has risen in price and is currently available for excess of $1,500 on StockX, the genuine pair of Air Jordan 1s that MJ wore in his memorable Shattered Backboard game are even more expensive.
It reappeared last year and was auctioned off for $610K, smashing the previous record set by another pair of Jordan 1 Chicago.
The pair is claimed to have fragments of glass embedded in it as a physical memory of that historic event.
4. Air Jordan 1 Chicago Dunk Sole – $1,012,500
Nike began experimenting with alternative soles on the Air Jordan 1 after Michael Jordan's foot injury in the fall of 1985, in addition to the ankle strap alterations they made to the Air Jordan 1.
One of these alterations resulted in an Air Jordan 1 with a Nike Dunk sole.
Only a few prototypes were manufactured, and one of them was auctioned off in February 2022 for a stunning $1,012,500, making it the most expensive Air Jordan in history and the first to accomplish so.
3. Michael Jordan's Nike Air Ships – $1,472,000
Surprisingly, these sneakers at number three are the most expensive Air Jordans Jordan has ever worn.
Jordan's Nike Air Ships from a 1984 Bulls game were auctioned off for $1.472 million in October 2021.
As a result, these are the most expensive sneakers ever sold at auction.
Because 1984 was the first year Jordan signed with Nike to launch the Air Jordans shoe brand, these Jordans are not only the most expensive but also the most "vintage" sneakers on this list.
It's now so common knowledge that Jordan sold Nikes that people forget how unusual it was for a sports celebrity to have a full-time brand agreement with a footwear line.
Nike was a small-time firm at the time of the $250,000 investment — Jordan was the celebrity behind the contract.
They made $126 million the first year the Air Jordans were available as a result of their brilliant invention. The Air Jordan brand alone was worth $3 billion in 2019.
2. Kanye West's Nike Air Yeezy – $1,800,000
These Jordans were sold at a private Sotheby's auction in April 2021.
They have the distinction of being the most expensive genuine, wearable Jordans on our list (you'll see why in a moment).
These Jordans are, in fact, the most expensive footwear ever sold.
Kanye West wore a prototype of these Nike Air Yeezy 1s during his performance at the 2008 Grammys.
These test sneakers ended up earning $1.8 million.
1. Solid Gold OVO x Air Jordans – $2 million
You'll need a lot of cash if you want to possess the world's most expensive Air Jordans.
A lot of money, as in money that only a famous rapper would have.
Drake's own clothing brand, OVO (October's Very Own), collaborated with Nike to develop a line of sneakers noted for their design as well as their high prices.
Nothing, however, compares to Drake's solid gold OVO x Air Jordans, which are reputedly worth $2 million.
The price was most likely substantially more because $2 million just covers the value of the gold (100 pounds), not the cost of design or production.
Needless to say, at over 100 pounds, these boots are more of an art piece than something the Canadian rapper can really wear.
Do you want a pair for yourself? Too awful. These are one-of-a-kind pieces.
Until a Michael Jordan basketball card sold for $2.2 million in 2021, these pair of Jordans would have been the most expensive item of Michael Jordan memorabilia.